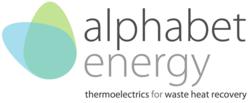 The student team with the best design for a commercially viable, efficient waste-heat recovery product using Alphabet's thermoelectrics will be flown in for an onsite project presentation and interviews at Alphabet Energy
Hayward, CA (PRWEB) March 07, 2013
Alphabet Energy Inc., the innovator of a platform silicon thermoelectric technology that generates power from a variety of waste-heat sources, is calling for undergraduate and graduate student applications to the company's first ever student product design competition.
The purpose of this competition is to both promote advancements in thermoelectric waste-heat-to-power technology and recruit talented students into a summer internship program at the company in the San Francisco Bay Area. Alphabet is excited to announce this unique opportunity for students to tackle a critical energy topic, engage with an exciting silicon valley cleantech startup, and win cash prizes ranging from $1,000 to $5,000.
Undergraduate and graduate student teams may submit projects for the design of a thermoelectric power generation system that utilizes wasted heat from one of these five sources:
1. Buses and long-haul trucks
2. Yachts
3. Fueled heat for emergency power
4. Aircraft engines
5. Home/building water heaters
Teams must submit one-page concept papers describing their proposed approach to the topics by March 29.
Teams with the top concept papers will be invited to continue in the competition and submit a design report. After careful judging by Alphabet's panel of experts, the student team with the best design for a commercially viable, efficient waste-heat recovery product using Alphabet's thermoelectrics will be flown in for an onsite project presentation and interviews at Alphabet Energy's office in Hayward, California.
Students interested in participating should email designcompetition(at)alphabetenergy(dot)com.
About Alphabet Energy Inc.
Alphabet Energy is commercializing breakthrough, inexpensive waste-heat recovery products based on technology developed at the Lawrence Berkeley National Laboratory. Alphabet aims to offer the most modular and scalable heat-recovery technology available, and to tap into the potential $90 billion market for the conversion of medium- and high-grade waste heat into electricity — offsetting as many as 500 million metric tons of carbon per year. Alphabet Energy won four awards at the 2009 Cleantech Open business competition: runner-up, National Prize; winner, National People's Choice Award; winner, California region Energy-Efficiency Prize; winner, California region Sustainability Prize. For more information, see http://www.alphabetenergy.com and @alphabetenergy on Twitter.