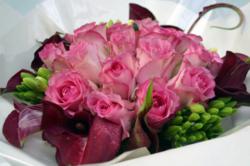 (PRWEB UK) 7 March 2013
With Mothering Sunday just around the corner on the 10th March, it's high-time to start thinking about which beautiful flowers you are going to get your mother. This is a day where the flower itself is less important than the meaning. Todich Floral Design, is a florist based in South-East London. The company boasts a talented floral design team who would be delighted to help anyone create a unique and personal bespoke designs for their mother's special day.
The florist stocks an assortment of fresh flowers. Tulips, in all their gorgeous colours and shapes have always been a popular choice; they symbolise aspiration and love. The florist stocks a variety of colours shading from white to dark burgundy and create individual displays from customers request. Unlike any online shop, Todich Floral Design creates personal flowers which have not been made for anyone else. Tulips are the in-house favourite as they come in vibrant colours as well as being beautiful and eye-catching,
Daffodils are in many seasonal displays and create an uplifting yellow glow which is admired by all. The Todich floral design florists believe these colourful scented flowers make the perfect gift for a little boy or girl to give to their mum. 'Working in a florist means we get to celebrate each occasion with an array of striking flowers', says head designer Laura Fisher. 'We love to get creative with designs, arranging narcissus with snowdrop form a delicate elegant bouquet, I personally love adding sprigs of muscari, as they have a mesmerising scent which I just adore'.
Designer Julianna Williams favours lilies within her designs 'Lilies are perfect for all Mothers on this special day, They are beautifully scented and look stunning when mixed against white roses or carnations. I love to keep designs simple and traditional'. The florist are happy to take requests over the phone, email or meeting up for a free consultation. They will happily copy a design from a magazine or recreate a bouquet which holds a special memory.
Todich Floral Design would be happy take on all enquiries and will even deliver the special bouquets on Mothering Sunday.
About Todich Floral Design
Todich Floral Design are a London-based digital florist who can help you choose the best wedding and events flowers, whether you're looking for a bridal bouquet, church decorations, or flower garland, their design and floristry team can create the most beautiful designs to suit your needs. Todich Floral Design also supply flowers to offices, restaurants, and salons on a weekly basis.