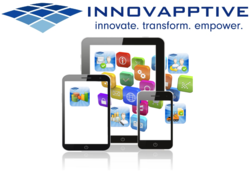 Innovapptive offers an EMaaS solution with a pre-built library of apps that goes beyond traditional SaaS offerings
Houston, TX (PRWEB) March 12, 2013
Innovapptive Inc. launched their first enterprise mobile app today, announcing their entry into the growing market of Enterprise Mobility. The app named "mSubstitute" was developed with focus on customers running SAP, giving their employees the ability to delegate authority to substitutes through a mobile device. The mSubstitute mobile app is available on both IOS and Android platforms and app stores. Innovapptive specializes within the Source to Pay, Finance and Analytics business processes by providing a wide range of SAP product engineering and consulting services. Innovapptive's expertise in SAP product development, business strategy, transformation, implementation, deployment and operations offers clients a wide range of end-to-end solutions to maximize business productivity and return on investment.
Along with CEO Mr. Hari Kamineni and President Mr. Sundeep Ravande the senior leadership at Innovapptive brings to the table over 100 years of combined strong SAP Consulting experience. "Innovapptive was created to allow us to deliver superior Enterprise Mobility services and products that are cost effective so that our clients' true needs are at the forefront. Innovapptive works toward complete customer satisfaction as we become a partner and stakeholder in our clients' growth, vision and success," said Hari Kamineni, CEO and co-founder when launching the company's first app on the SAP Store.
A recent Gartner report concluded that - "The rise of 'bring your own device (BYOD)' is the single most dramatic shift in the economics of client computing for business since PC's invaded the workplace." Innovapptive looks to capitalize on this statistic, targeting companies looking to seek innovative products and consulting services. "Innovapptive offers an EMaaS solution that goes beyond traditional software-as-a-service (SaaS) offerings," continued Mr. Kamineni. "Our unique EMaaS solution comes with a pre-built library of SAP-certified mobile apps that are specific to your line of business, industry, or process area. We provide enterprise mobility support and maintenance, as well as accelerated deployment solutions that we custom-tailor using our templates, end-to-end enterprise mobility strategies, and consulting to support an on-premise or cloud-based solution."
In addition to being an SAP mobility partner, Innovapptive has also partnered with leading cloud service providers and application layer tools providers. Innovapptive has a team of committed leadership and dedicated consultants, certified in providing Sybase Unwired Platform (SUP), Afaria, and Appcellerator assistance, to help enterprises address their BYOD challenges. Learn more at http://www.innovapptive.com.