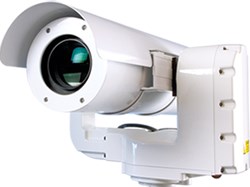 We're pleased to showcase our long-range technology with a game-changing feature set, including up to 137x zoom, which is 6 times the resolution of standard-definition camera systems, boresighting, and precision positioning.
Poway, CA (PRWEB) March 07, 2013
Cohu, Inc. (NASDAQ: COHU) today announced a new, innovative video surveillance solution from CohuHD.
CohuHD's 8800HD Series combines full high-definition (HD) image resolution with high-powered HD performance lens optics for delivering unprecedented image quality and detail for long-range surveillance applications in the visible spectrum.
By comparison, CohuHD's 8800HD Series can deliver up to 6 times the resolution and detail of traditional standard-definition long-range camera systems. With this exceptional performance, the 8800HD is ideal for perimeter security, border patrol, and protecting airports, ports, military, maritime, and other critical infrastructure.
In addition to superior image quality and excellent long-range zoom optics, the 8800HD system delivers its HD video across standard digital network infrastructures. It does this by using H.264 image compression technology, which requires a fraction of the bandwidth traditional MPEG4 or MJPEG requires.
The 8800HD Series long-range camera system offers an unprecedented feature set:

First truly long-range high-definition camera positioner
Powerful HD zoom magnification, up to 137x
Industry's narrowest HAFOV with HD resolution, as low as 0.2 degrees
Boresighted optics with programmable day/night focusing
Greatest detection distances on the market, human-sized objects detected at distances up to 30 miles (based on Johnson Criteria with optimum conditions)
First long-range HD camera positioner with built-in H.264 compression and web server, operating over standard digital networks
Precision positioning with speed range of 0.05 to 450/second, and with built-in brakes for stability
Highest environmental standards: IP67, ASTM-B117, TS-2 Shock & Vibe, and MIL-STD-810F for salt/fog, immersion and sand/dust
"We're very excited to launch the industry's first IP-based high-definition long-range camera system with the release of the 8800HD Series," said Tom Kampfer, President of CohuHD. "We're pleased to showcase our long-range technology with a game-changing feature set, including up to 137x zoom, which is 6 times the resolution of standard-definition camera systems, boresighting, and precision positioning."
The 8800HD superior image quality is generated by a 1/2.7" CMOS 1080p30 progressive scan day/night sensor. Image performance and color reproduction are superb even under challenging
lighting conditions. In night mode, the camera enhances low light viewing by automatically switching the IR filter out of the optical path, delivering a monochrome image.
Long-range surveillance is achieved by the integrated 55x HD-quality zoom lens optics, with focal length ranging from 12mm to 660mm. The lens includes a remotely controlled 2.55x optical extender which can be inserted in the optical path, increasing the maximum focal length to 1680mm. Horizontal Angular Field Of View as low as 0.2 degrees is achieved at full zoom with extender inserted.
The 8800HD Series offers a standalone camera system or a fully integrated long-range HD camera positioning system. The 8800HD camera positioner includes a variable high-speed pan and tilt drive, 360 degree continuous pan (azimuth) and +/- 30 degree tilt (elevation) movements. Manual control positioning speeds range from 0.05 to 45 degrees per second.
The 8800HD is designed to operate in extreme weather, with its IP67 sealed and pressurized enclosure protection. This eliminates the effects of water intrusion, pollutants and corrosives. It is designed to operate in a broad temperature range, from winter in the Arctic to summer in the desert, with heaters and fans, and electrical and mechanical components that are rated for the full range.
Orders for the 8800HD long-range camera system are being taken now, call 858-391-1795.
About CohuHD
CohuHD, a division of Cohu, Inc., is a leading manufacturer of video surveillance camera systems for use in mission-critical, sensitive environments. Integrating the latest video compression and high-definition IP technology into its innovative, rugged video camera systems, CohuHD's line of high quality HD cameras, transmission equipment and management software can be found on the International Space Station and monitoring the busiest freeways and ports, military bases, U.S. Navy ships, oil refineries, nuclear reactors, mines, high value manufacturing sites, and many other critical installations around the globe. For more information on CohuHD's products, please visit http://www.cohuHD.com. Follow us as http://www.youtube.com/cohuhd, http://www.twitter.com/cohuhd, http://www.linkedin/company/cohuhd, and http://www.facebook.com/cohuhd.
Contacts: Dana Varga – CohuHD, Marketing Manager (858) 391-1712.