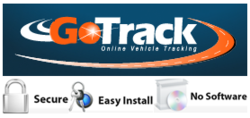 "We are very excited to unveil our new web ad for the public," said a Go Track representative
(PRWEB) March 15, 2013
Go Track, the industry leading innovator in GPS vehicle tracking, today debuted a professional web ad. Uploaded to their website and YouTube, Go Track's ad features professional graphics, interviews with customers, and a product demonstration. This debut follows the recent unveiling of Go Track's redesigned website. The introduction of the website and the web ad, Go Track foresees, will increase the effectiveness of their online presence. The web ad can be viewed here: http://www.gotrack.com/video/.
"We are very excited to unveil our new web ad for the public," said a Go Track representative.
"As more people are using the web to purchase products, we wanted to make our web experience more engaging for the consumer. We have done a complete redesign of our website, we produced this web ad, and there will be more to come. We believe we have the most user-friendly product on the market and we want our website to mirror that experience. We hope people will take a minute to watch the video and discover more about our product."
Go Track's GPS tracking systems—developed in-house—are easily installed in vehicles and updated live online. Go Track markets their GPS tracking systems to parents with teenage drivers, businesses with fleets of vehicles, and others. After the GPS vehicle tracker is installed, Go Track charges a small monthly fee to record and store the GPS tracking information 24 hours a day, 7 days a week.
About Go Track
Founded in 1997, Go Track developed its own GPS vehicle tracking system to easily install in commercial and personal vehicles. Go Track's GPS vehicle tracker allows customers to track a vehicle 24 hours a day, 7 days a week. Customers can then review that data anytime for 6 months. To facilitate quick delivery, Go Track stocks their inventory and ships the same day as the order Monday-Friday. Go Track is accredited with an A+ rating from the internationally-respected Better Business Bureau. For more information, please visit their website http://www.gotrack.com/, call them at 800.772.2885, or download their mobile app on your iPhone or Android smartphone.