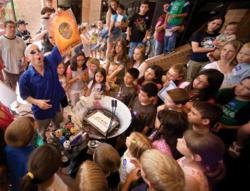 ATOM is engaging and a wildly entertaing personality. He is the rock star of performance painting.
Washington, DC (PRWEB) March 27, 2013
Event Entertainment Agent Specialist, Mark Sonder, the Chief Entertainment Officer at the entertainment and talent agency Mark Sonder Productions, Inc. launches the "driver of traffic" to assist schools and businesses. In an economy and world in which it is a challenge to get noticed and to raise money, ATOM: World's Fastest Painter, can accomplish that task as a "traffic-getter." No one creates more congestion in the aisles at a tradeshow with exhibit booths for B2B or collegiate then ATOM. No one get students and their parents and community more engaged in what and how fast he performs.
ATOM: World's Fastest Painter, the former street artist who is now a celebrated media sensation, has appeared on numerous television programs and been featured in countless newspaper articles around the world. In addition to his popularity, ATOM has performed for the likes of President Bill Clinton, California Governor Gray Davis, the winter and summer Olympic Games and major charitable events. He has also toured with recording artists Run DMC, Limp Bizkit, Jane¹s Addiction, Smashmouth and performed at many rave concerts including Fatboy Slim, Chemical Brothers and Paul Oakenfold.
As you will see in the video, ATOM is talented, engaging and a wildly entertaining personality to assist schools and businesses get more attention for their fundraisers and special events. He can whip a crowd into a frenzy while churning out an amazing painting under three minutes! His energy is infectious and will have the entire audience involved. He's a real crowd pleaser.
What do Nike, Ford and Coca-Cola Have In Common with Penn State, Radford and University of Wisconsin Oshkosh? They have all incorporated ATOM: World's Fastest Painter in their Strategic Business Plan to forward their mission.
ATOM: World's Fastest Painter is generally available in the US to aid your school or business by getting more attention for their fundraisers and events.
To engage him for your collegiate or business event, call Mark Sonder Productions, Inc. at +1-540-636-1640.
About Mark Sonder Productions
Mark Sonder Productions, Inc. - Event Entertainment Agency Specialist Mark Sonder Productions is an award winning entertainment agency for special events, meetings, conventions, trade shows, expositions, concert and casino facilities worldwide as seen in The Boston Globe; The San Francisco Chronicle; The Miami-Herald; United Press International; as well as on FOX and CBS Money Watch.
We enjoy both exclusive and non-exclusive relationships with headliners, musicians, comedians, theatrical productions, lecturers, and venues. TALENT BUYING: Our almost 3 decades of contracting has given us the knowledge and experience to represent our clients in a very strong position.
Mark Sonder Productions is a privately held company and has been delivering excellent customer service to the USA and abroad since 1985.
For media inquiries, please contact:
Phone: +1-540-636-1640
Email: pr(at)marksonderproductions(dot)com
Mark Sonder Productions, Inc.
Websites:
http://www.worldsfastestpainter.com
http://marksonderproductions.com