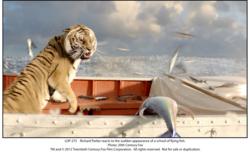 Losing tigers would be a tragic loss for the arts, which at its core, is about interpreting life in its grandest form. Ang Lee
Washington, DC (PRWEB) March 07, 2013
World Wildlife Fund (WWF) and Twentieth Century Fox Home Entertainment announced today a public service announcement (PSA) campaign to raise awareness for wild tiger conservation in conjunction with the home entertainment release of the Academy® Award winning film Life of Pi. Fox Home Entertainment will give a portion of the proceeds from the Life of Pi Blu-ray™ and DVD to WWF's tiger conservation efforts. The partnership will run from March 12 to June 30, 2013.
Wild tigers face a number of threats, including habitat loss from human activities such as clear cutting for agriculture and road development, climate change and poaching. Every part of the tiger – from whisker to tail – is traded in illegal wildlife markets. Illegal wildlife trade has reached unprecedented levels that WWF has not seen in its 50 year history and is jeopardizing the future for wild tigers on this planet.
"Tigers are the world's most beloved species, yet they face an uncertain future," said Barney Long, WWF's Asian species expert. "With fewer than 3,200 left in the wild, WWF hopes to double the number of tigers by the year 2022. Joining together with Twentieth Century Fox Home Entertainment, we will reach new audiences, educate more people, and build support to secure a future for wild tigers."
"Life of Pi linked the fates of one boy and one tiger together mesmerizing millions of people around the world,'' said Mary Daily, President of Worldwide Marketing and Chief Marketing Officer, Twentieth Century Fox Home Entertainment. "Our partnership with WWF creates new opportunities for us to protect the fates of an entire population of wild tigers, while at the same time celebrating at home the riveting movie experience that took our breath away.''
"Stories like Life of Pi are inspired by nature and its magnificent wild species," said Ang Lee, Academy® Award winning Director of the film. "While film has the power to make us believe in the unbelievable and beautifully capture a tiger's graceful presence, in reality, the tiger's world is far from magical. Their true story is one of fighting for survival. Losing tigers would be a tragic loss for the arts, which at its core, is about interpreting life in its grandest form. Partnering with WWF allows us to align around a shared passion – ensuring wild tigers have a permanent home so we can all continue to appreciate these animals, not only on the big screen, but in the wild where they will hopefully remain for generations to come."
Life of Pi follows Pi Patel, a young man on a fateful voyage who, after a spectacular disaster, is marooned on a lifeboat with the only other survivor, a fearsome 450lb Bengal tiger named Richard Parker. Hurtled into an epic journey of adventure and discovery, Pi and his majestic companion make an amazing and unexpected connection.
ABOUT WORLD WILDLIFE FUND
WWF is the world's leading conservation organization, working in 100 countries for half a century. With the support of almost 5 million members worldwide, WWF is dedicated to delivering science-based solutions to preserve the diversity and abundance of life on Earth, halt the degradation of the environment and combat climate change. Visit http://www.worldwildlife.org to learn more.
ABOUT TWENTIETH CENTURY FOX HOME ENTERTAINMENT
Twentieth Century Fox Home Entertainment, LLC (TCFHE) is a recognized global industry leader and a subsidiary of Twentieth Century Fox Film, a News Corporation company. Representing over 75 years of innovative and award-winning filmmaking from Twentieth Century Fox, TCFHE is the worldwide marketing, sales and distribution company for all Fox film and television programming, acquisitions and original productions as well as all third party distribution partners on DVD, Blu-ray™, Digital Copy, Digital HD™, and VOD (video-on-demand). Each year TCFHE introduces hundreds of new and newly enhanced products, which it services to retail outlets from mass merchants and warehouse clubs to specialty stores and e-commerce throughout the world.
###
Visit worldwildlife.org/lifeofpi to learn more.
Life of Pi Press materials available at http://www.epk.tv
Tiger photos: https://photos.panda.org/gpn/external?albumId=4356
For more information, please contact:
Jenna Bonello, World Wildlife Fund, (202) 495-4541, jenna.bonello(at)wwfus(dot)org
Kavita Smith, Twentieth Century Fox Home Entertainment, (310) 369-8435, kavita.smith(at)fox(dot)com