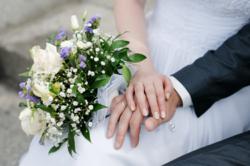 Newport Beach, CA (PRWEB) March 07, 2013
In recent years, Wedding.com has witnessed an increasing number of engaged couples taking a philanthropic approach with their wedding plans. Rather than having guests shower them with gifts, many couples are now asking their guests to instead make donations to a charitable cause.
Actress Jennifer Aniston and fiancé Justin Theroux will partake in this popular wedding trend as well. The celebrity couple is requesting their guests donate to a children's hospice in lieu of giving gifts (http://m.timesofindia.com/entertainment/hollywood/news-interviews/Aniston-Theroux-dont-want-wedding-gifts/articleshow/18831679.cms).
According to Wedding.com, most couples that choose to ask for donations simply do so as a way of giving back to the world. For others, philanthropy played an important role in their relationship, and tying a charity to their wedding seems the natural move to make. Donations are usually asked to be made in the couple's name. There are also a number of online wedding registry websites that allow couples to create a philanthropic registry.
"Some give their guests a list of preselected organizations. Think of it as a registry of charities, if you will. Others give their guests open reign in choosing where to donate their gift," says Brett Reynolds, CEO of Wedding.com. " Either way, it serves a good purpose, and we foresee this particular trend sticking around for a very long time. "
For more information about Wedding.com, please visit http://www.wedding.com.
About Wedding.com
Wedding.com is an innovative new website that connects engaged couples planning their wedding with wedding vendors looking to grow their business. Wedding.com contacts vendors for couples, giving them the power to compare and negotiate while ultimately saving time and money. With 12,000 couples and 22,000 vendors currently using the website, 105,000 proposals have already been sent since their inception. Vendors range in services from wedding planners, photographers, florists, and DJs to custom invitations, party favors, and much more. For additional information about the company and its services, please visit http://www.wedding.com.