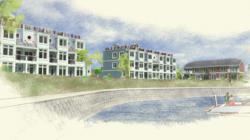 "... With the amazing roof-top deck, you get the most incredible views of the Harbor and Starved Rock Country."
Ottawa, Ill. (PRWEB) March 11, 2013
Heritage Harbor Ottawa, located in Starved Rock Country in Illinois, is excited to announces its latest, unique real estate series—The West Harbor Lofts.
Tammy Barry of Heritage Harbor says as soon as the weather warms up a bit, the resort will break ground and concrete work will begin on the newest development. The sexy, modern and entertaining West Harbor Lofts were designed to not only impress with location, impressive views and elegant floor-plans, but to also have comfort and adventure in mind.
The series will feature a three-story town home overlooking the harbor, which will include a roof-top deck, tandem garage, multiple bedrooms, flex space, outdoor space for grilling, entertaining and more, and will also overlook the harbor community pool. This ideal location makes The West Harbor Lofts not only waterside on the picturesque coast of the Illinois River, but also poolside.
"We're hoping to start pouring concrete as soon as possible this spring," says Barry. "We're all so excited to enter this new phase of Heritage Harbor's growth with the West Harbor Lofts. The lofts are unique, fun, sexy, yet also comfortable, relaxed, easy to maintain and have a modern flair and style.
"And here's one of the best parts—with the amazing roof-top deck, you get the most incredible views of the Harbor and Starved Rock Country."
Barry says that with the prime location of the West Harbor Lofts series in the resort, it's impossible to not get a great view. Plus, the lofts are adjacent to the Harbor community pool, boat slips and on the waterfront of Starved Rock Country's Illinois River.
As the new real estate series launches, Heritage Harbor is offering an introductory offer to those interested including a choice of a one-year free boat slip rental, two Hobie Kayaks (or one tandem kayak) or a one-year Quest Watersports membership. Quest Watersports aims to make boating simple and carefree, bringing the latest in water-based experiences to the heart of Starved Rock Country.
Click here to see a slideshow of Heritage Harbor Ottawa and its other series of waterfront homes.
For more information on West Harbor Lofts, see a floor plan, or to take a tour of any Heritage Harbor waterfront homes and cottages, contact Heritage Harbor Ottawa at 815-433-5000.