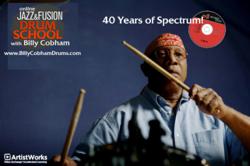 The fact that Spectrum remains in the hearts and minds of people around the world is a gift and I look forward to sharing that with drummers around the world. - Billy Cobham
Napa, CA (PRWEB) March 07, 2013
ArtistWorks, the leading provider of interactive online music lessons, has teamed up with Modern Drummer Magazine to present a rare live streaming workshop with master drummer and ArtistWorks online teaching artist Billy Cobham.
The "40 Years of Spectrum" live streaming event takes place March 16 at 9 AM PT and will be moderated by Modern Drummer Managing Editor Michael Dawson. The event will feature Billy Cobham "at the kit" talking about the making of Spectrum and demonstrating many of the techniques that make Cobham one of the most influential drummers of his era.
In honor of this rare live streaming workshop, ArtistWorks is giving away a prize pack, including a Sabian 20" Artisan Light Ride cymbal ($799 value), a box of Vic Firth 'Billy Cobham Signature Sticks (a $198 value), set of Evan's drumheads (a $154 value) and a Shure PGDMK6 drum kit mic pack (a $499 value).
Spectrum is a landmark fusion album that was released in 1973 as Billy Cobham's debut album as a solo artist. In addition to Cobham, it featured music legends Jan Hammer, Tommy Bolin, Leland Sklar and others. The album has influenced generations of rock, jazz, funk and fusion bands across the world.
Cobham takes a break from his highly successful "Cobham 40" tour, which is currently working its way through Europe, to share his prodigious drumming chops with students and fans.
Billy Cobham first teamed up with ArtistWorks in 2011 to start the online Fusion Drum School with Billy Cobham. In Cobham's online drum school students can learn from dozens of pre-recorded online video lessons and backing tracks. Whenever they want feedback, they can use ArtistWorks Video Exchange™ Feedback Platform to submit practice videos. Cobham responds with personalized videos detailing strengths and providing additional exercises to shore up weak points.
These Video Exchanges are paired together, combined with the other drum lessons and made available for all students to see and learn from.
"This live event, my tour and my ArtistWorks online drum school give me three amazing ways to share this music with fans and aspiring performers," said Cobham. "The fact that Spectrum remains in the hearts and minds of people around the world is a gift and I look forward to sharing that with drummers around the world."
"40 Years of Spectrum" will stream live at http://artistworksdrums.com. For more information and to sign up for the event, go to the Event Page on the ArtistWorks Google Plus.
Anyone may enter the Billy Cobham Drum Pack Contents at: http://play.artistworks.com/win-a-billy-cobham-drum-prize-pack/
About ArtistWorks, Inc.
Founded in 2008 by former AOL executive David Butler and former financial executive Patricia Butler, ArtistWorks, Inc. is the leader in a new generation of online learning platforms. Their revolutionary global learning community of world-renowned teaching artists and enthusiastic amateurs is dedicated to unleashing the music that lies within all of us. This "next generation" Video Exchange Feedback Platform enables virtuoso musicians to "teach the world" by presenting their musical legacy in the form of HD video lessons to subscribing students. Utilizing simple web cams, smartphones, tablets or video cameras, students are able to submit practice videos and get individualized video feedback and guidance from their teaching artists - creating a constantly evolving two-way, online learning experience.
ArtistWorks currently offers schools from such world-class artists as: Paul Gilbert (rock guitar lessons), Martin Taylor (fingerstyle guitar lessons), Jason Vieaux (classical guitar lessons), Andreas Oberg (jazz guitar lessons), Jeannie Deva (singing lessons), Nathan Cole (violin lessons), Jeffrey Khaner (flute lessons), William Caballero (French horn lessons), David Bilger (trumpet lessons), Ricardo Morales (clarinet lessons), Nathan East (electric bass lessons), John Patitucci (jazz bass lessons), Howard Levy (harmonica lessons), DJ Qbert (DJ lessons), Christie Peery (piano lessons), Thomas Lang (rock drum lessons), Billy Cobham (jazz and fusion drum lessons), Luis Conte (percussion lessons), as well as the ArtistWorks Academy of Bluegrass with Tony Trischka (banjo lessons), Missy Raines (double bass lessons), Bryan Sutton (flatpick guitar lessons), Andy Hall (Dobro lessons), Mike Marshall (mandolin lessons), and Darol Anger (fiddle lessons). For more information, visit ArtistWorks.com
About Modern Drummer Publications, Inc.
Founded in 1977 by professional drummer and drum teacher, Ron Spagnardi, Modern Drummer magazine was the world's first publication of its kind; featuring articles and interviews with major drummers from a wide cross-section of musical disciplines, news and reviews of the latest drum equipment, and educational columns from highly-respected educators. Modern Drummers' skill in both documenting the state-of-the-art and influencing it quickly established the magazine's popular and critical acclaim and over the years MD's presence expanded to include special editions, an extensive collection of educational books and DVDs, and the Modern Drummer Readers Poll and Hall Of Fame as well as the Modern Drummer Festival™, a world-renowned event that attracts major drum artists and enthusiasts from around the globe. Now in its 34th year of continuous publication, Modern Drummer remains the largest and most successful drum magazine on the planet. For more information about the company, please visit http://www.moderndrummer.com