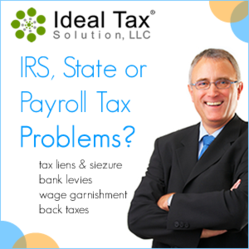 It never ceases to amaze me how many different clients share a common problem.
Costa Mesa, CA (PRWEB) March 08, 2013
Ideal Tax Solution, LLC has always recognized the value of gathering and then sharing credible IRS related news announcements as they occur. The IRS Statistic of Income (SOI) Division produces SOI Bulletins on a quarterly basis, providing income data for previous years. For example, the winter 2013 edition includes data from 145 million tax returns, which were filed in 2011. Ideal Tax Solution has learned the current SOI publication also entails facts and figures from tax years 2010, 2009, and 2008.
Taxpayers have long acknowledged their appreciation for the way in which Ideal Tax Solution brings informed scrutiny to a tax debt resolution process. The strongest financial service companies are the ones who best understand the potential benefits for their clients of staying current on all IRS related statistical data.
By fully comprehending tax related IRS documentation, professional tax relief specialists like the ones at Ideal Tax Solution are better prepared to interact with the IRS on behalf of taxpayers in need of serious tax problem resolution. Information released by the Internal Revenue Service is reflective of taxpayer trends, in addition to being a barometer for the effectiveness of existing tax code policy.
Analyzed data from the IRS is also a good source of knowledge for taxpayers interested in following a quantitative breakdown of tax revenues collected by the federal government. Ideal Tax Solution keeps a daily watch on IRS news reports, whether for informational purposes or more serious tax liability issues, such as negotiating resolution for taxpayers who suddenly find themselves in delinquent taxpayer status.
"It never ceases to amaze me how many different clients all share a common problem," says Jose Vasquez, a senior marketing associate at Ideal Tax Solution. "They contact us almost disbelieving the fact the IRS has classified them as delinquent taxpayers. For almost all of them, it carries a negative stigma which we, of course, immediately work to remove."
Printed versions of the SOI Bulletin can be obtained by ordering them from the Superintendent of Documents, U.S. Government Printing Office, P.O. Box 371954, Pittsburgh, PA 15250-7954, or by visiting the IRS.gov website. Recent or existing IRS information on any tax related subject can also be attained by simply contacting Ideal Tax Solution.
For U.S. taxpayers interested in finding out more about Ideal Tax Solution and their full range of in-depth and personalized tax preparation services, or for any tax help related issue, visit them online at http://www.idealtaxsolution.com. You can also reach them by phone by dialing 888.393.5154. Good tax tips and additional information can be found on their Facebook page and by following them on Twitter.
About Ideal Tax Solution, LLC – Located in Costa Mesa, California, the company provides a full range of tax preparation and resolution services as well as reassurance to taxpayers nationwide. With more than 55 years of combined experience providing American taxpayers with federal and state income tax solutions, Ideal Tax Solution offers an experienced staff which includes Enrolled Agents, CPAs and Senior Tax Consultants who stand at the ready to help with any tax issues.