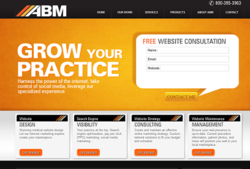 This event is where the leaders in facial aesthetics meet each year, and ABM is proud to be a part of it.
Solana Beach, CA (PRWEB) March 08, 2013
The 21st Annual Multi-Specialty symposium, State-of-the-Art in Facial Aesthetics hosted by the Foundation for Facial Aesthetic Surgery will take place from March 20-24, 2013 with ABM as a media partner for the show. Be sure to stop by our booth for a free medical website & marketing consultation.
ABM's Timour Haider to Present Several Lectures
Timour will be presenting 5 marketing lectures centered around search engine marketing, medical website design, reporting & analytics and putting together an effective online marketing system. In addition to the lectures Timour will also moderate a panel discussion evaluating medical website's and participate in an 'Ask the Experts' panel discussion on general medical marketing topics.
"Search engine marketing and Search Engine Optimization have both changed tremendously over the last year and I'm very excited to discuss these changes with the audience at the upcoming event," stated Timour Haider, Managing Director at ABM. "Being able to present 5 lectures and participate in panel discussions allows me the opportunity to cover a wide range of topics that directly affect marketing for the aesthetic practice."
ABM as a Media Partner
In addition to Timour's presentations ABM was selected as a media partner for the event, you can find our booth by the entrance to the main exhibit hall. Timour says, "This event is where the leaders in facial aesthetics meet each year and ABM is proud to be a part of it."
About Aesthetic Brand Marketing Inc.
Aesthetic Brand Marketing Inc. is a boutique medical marketing agency with distinct expertise in servicing the elective health care industry. We specialize in custom tailored website marketing solutions designed to drive new potential patient inquiries. ABM's unique blend of internet consulting, search engine and social media marketing, interactive expertise & digital PR generate strong returns for our clients.
About the Foundation for Facial and Aesthetic Surgery (FFAS)
The purpose and mission of the Foundation of Facial Aesthetic Surgery (a Non-Profit, Multi-Specialty Foundation) is to foster a sense of cooperation between the medical specialties that are primarily involved in the science, practice and teaching of facial aesthetic surgery and medicine; to hold symposiums that include leading educators, instructing in full interactive teaching programs with a particular emphasis on facial rejuvenation. The Foundation's goal is to continue creating and funding future educational ventures that will benefit today's medical practitioners and students, in order to better serve the public at large. The FFAS grew out of an annual Multi-University, Multi-Specialty symposium that began at the University of Tennessee Health Science Center, Memphis in 1992.