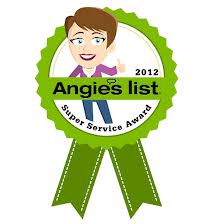 Our Crew of technicians is to be congratulated for their efforts in keeping customer satisfaction at the top of their priorities.
Batavia, IL (PRWEB) March 07, 2013
Confident Aire, Inc., a Batavia, Illinois based HVAC company serving Kane County, Illinois, won the 2012 Angie's List Super Service Award in the category of Heating and AC, Air Duct Cleaning, Dryer Vent Cleaning, Water Heaters and Plumbing for the third year in a row.
This prestigious award is earned by fewer than 5% of businesses registered with Angie's List and credits service providers who achieve a superior service record with their customers. According to Angie's List guidelines, providers must average "A" ratings on a minimum number of customer reviews in their market area over a consistent time period in order to qualify.
"We take great pride in our work and are extremely honored to have received this award again for 2012. Our crew of technicians is to be congratulated for their efforts in keeping customer satisfaction at the top of their priorities," said Tom Wangler, President and Owner of Confident Aire. "We always focus on exceeding expectations, even when it means taking extra steps to make sure the job is done right the first time. It is gratifying to see that our customers recognize our efforts in the way of nice reviews. It really means a lot to us."
Confident Aire is a family owned company and has built its reputation on honesty, integrity and reliability. Owner Tom Wangler is a second generation heating and cooling specialist having learned the trade as a young boy from his father.
Tom and his team at Confident Aire are consistently recognized for their outstanding service throughout the community as demonstrated by the numerous awards received for their HVAC services. Recently they earned the 2012 "Distinguished Dealer Award" from the Trane Company, manufacturer of heating and cooling systems and in the past have earned the Kane County Chronicle's Readers' Choice "Best of the Fox" Award. The Company consistently maintains an "A" rating from the Better Business Bureau of Illinois.
About Confident Aire:
Since 1992 Confident Aire has been providing quality heating, cooling, plumbing and energy solution services to residential and commercial customers throughout Kane County, Illinois area communities. They are fully licensed, bonded and insured to do business in the state of Illinois. In addition to their expertise in heating and cooling systems, Confident Aire also provides professional services in dryer vent and air duct cleaning, new sump pump and water heater installations and other home services. For more information visit http://www.confidentaire.com.