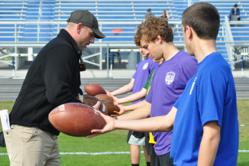 The athletes at the Husted Kicking Pro Camp are the 'best of the best' available on the free agent market. Dave Brader.
San Diego, CA (PRWEB) March 07, 2013
Retired NFL punter Dave Brader, of Husted Kicking, will be coaching at the 2013 Husted Kicking Pro Kicking Camp being held in Boca Raton, FL, from March 9-14, 2013 according to kicking coach Michael Husted.
"I worked Louie's first pro camp in Mesa, AZ 10 years ago while I was still trying to get my break," says Brader. "After signing -as a result of my performance(s) at the Aguiar/Husted Pro Camp- it was a natural fit to transition to coach alongside the best coaches in the country at the best pro showcase in the country."
"The athletes at the Husted Kicking Pro Camp are the 'best of the best' available on the free agent market," says Brader. "This is the 'go to camp' for any specialist looking for a crack at the NFL."
Go here for more information about the Husted Kicking Pro Camp.
A future in professional football was never one of Brader's goals; professional baseball, however, was in his sight. It was at a regional workout for the Atlanta Braves in 1999 when he picked up a football someone was throwing and punted it; as luck so has it, a scout for the St. Louis Rams was there with his son, the rest as they say, is history.
Brader began fine tuning his skills and with the coaching of WGHS grad and former NFL coach Hank Kuhlmann c/o '54, Ray Pelfrey, Kelly Goodburn and Louie Aguiar, and signed an NFL contract with the Jacksonville Jaguars in 2005 before a career ending injury forced him to the sideline in 2006.
Brader has coached numerous area kickers and punters and athletes from University of Texas, University of Wisconsin, Kansas University, University of Iowa, St. Ambrose College, University of Missouri, Lindenwood University and Missouri State in his kicking lessons and kicking camps.
Michael Husted, who kicked in the NFL for 9 years, started the Pro Camp with retired NFL punter Louie Aguiar. However Aguiar has recently been hired as an Assistant Special Teams Coach with the New York Jets and will not be part of this years' camp.
"It will be different this year with Louie Aguiar not coaching at our camp," says Husted. "However, with his new job as the New York Jets Special Teams Assistant Coach, our Pro Camp coaching staff is very happy for Louie and we wish him all the best in New York."
Aguair says he will miss being at the Pro Camp as a coach this year, but looks forward to being there as a representative for the Jets.
"Leaving the Pro Camp, and working with Michael Husted, is perhaps the toughest thing I've had to do in my professional career," says Aguiar. "However, Michael is an outstanding coach, and he is great at what he does. So I am looking forward to seeing him 'from the team side' at this year's Pro Camp."
This year's Husted Kicking Pro Camp coaching staff includes (along with Brader) former NFL punter Craig Hentrich , former NFL kicker Mike Hollis, former NFL long snapper Mitch Palmer, and former NFL special teams coach Mike Stock.
Husted says the Husted Kicking Pro Camp is the place for those free agent kicking specialists, not invited to the NFL Combine, to be seen by NFL scouts and pro staff. And for those kicking specialists still in college, Husted says it means the chance to receive instruction and guidance from some of the best coaches in the nation such as Dave Brader.
"At the pro level, our event serves as an official alternate NFL combine for those who were not invited to the NFL's combine in Indianapolis," says Husted. "For those still in college, the first part of our camp allows kickers to receive professional instruction from athletes who have played in the NFL as well as coached hundreds of players."
Husted says the camp is specifically designed to help young kickers get their shot at the pro level.
"This Pro Camp has grown to be the most comprehensive pro camp out there for kickers, punters, long snappers and special team players," says Husted. "Not only do we provide a great platform for exposure to NFL, CFL and UFL teams, but we also have actual playing experience that we share with the athletes that you can't find during instruction or video review."
And NFL coaches confirm what Husted says about the Husted Kicking Pro Camp.
Scott Cohen Assistant GM of the NY Jets says "Going to the Husted Kicking Pro Camp is a must stop for every NFL team to evaluate the best punters, kickers and long snappers available. They run their camp with efficiency, professionalism and they take pride in the product they are presenting to NFL special teams' coaches and pro scouts."
Go here for more information about kicking coach Michael Husted.