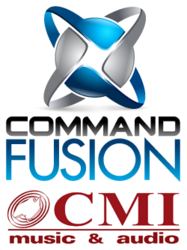 The quality of staff and facilities at CMI ensures our Australian customers will receive an exceptional level of training and support.
Melbourne, Australia (PRWEB) March 08, 2013
Australian technology distributor CMI Music & Audio has today been appointed as the exclusive distributor of CommandFusion automation and control hardware in Australia. Effective immediately, this distributorship will further strengthen CommandFusion's presence in the Australian automation and control marketplace. This partnership will allow CommandFusion and CMI Music & Audio to work together to educate integrators on the benefits of their powerful hardware range.
CMI is the latest addition to the partnerships for CommandFusion hardware distribution. The appointment of CMI Music & Audio will allow CommandFusion to work with an outstanding distributor in their home territory.
"Finding the right local partner for distribution was very important to us. The quality of staff and facilities at CMI ensures our Australian customers will receive an exceptional level of training and support," said Jarrod Bell, Co-Founder, CommandFusion.
In the ten months since its release, the CommandFusion hardware range has been steadily growing in popularity. The hardware release represents a culmination of three years of development by the research and development team. The hardware utilises a modular design ensuring that all system sizes from a single room up to an entire campus are catered for in a highly cost effective way. Already successful in the home automation industry, CommandFusion products have also been quickly gaining ground in the commercial and industrial automation and control sectors. CommandFusion believes in openness: software and hardware protocols are fully published - allowing integrators to mix control systems within a job to suit their requirements and budgets.
The CommandFusion range of hardware is CMI Music & Audio's first steps into the control and automation marketplace. With an extensive nationwide dealer network already in place, CMI Music & Audio are in a prime position to introduce this powerful and affordable control system to the Australian market.
"Our offering to the Commercial Audio and AV Integration sector has steadily grown and evolved over the past few years, and it made perfect sense for us to include CommandFusion's product lineup alongside our existing brands. We look forward to supporting the growth of such an exciting product," said Simon Tait, Product Manager & Consultant Liaison at CMI Music & Audio.
About CommandFusion
Founded in Melbourne, Australia in 2005 as GuiLink then renamed CommandFusion in 2011, the company has been selling its flagship software product (CommandFusion iViewer) for iOS since 2008. Renowned for its flexibility and versatility, iViewer is now available for both iOS and Android platforms. The company has been working on the hardware product line since 2008. With a small, dynamic and driven international team coming from the automation, software and hardware fields, CommandFusion strives to offer the best support and fastest innovation turnaround in the industry.
About CMI Music & Audio
CMI Music & Audio has grown to become one of Australia's leading and most respected distributors, nationally distributing and marketing pro and commercial audio products, professional musical instruments (MI), and hi tech products. CMI Music & Audio has been wholly owned by the Trojkovic family since its inception back in 1978. Based in Melbourne, with its head office and national distribution warehouse of nearly 5,000 square meters, CMI maintains a stock holding in excess of $7 million. Founder Drago Trojkovic - in his role as managing director - was the main driving force of the company during the early days. Since then CMI has diversified to service numerous markets with the backing of some of the world's most respected brands.
CommandFusion Automation Hardware is available in Australia from CMI Music & Audio.
http://www.cmi.com.au
For more information on CommandFusion Automation/Control Hardware & Software:
http://www.commandfusion.com