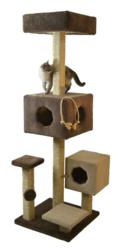 EVS Enterprises is focusing on how well designed cat furniture will promote cat healthy lifestyle.
Maple Ridge, BC (PRWEB) March 07, 2013
For many cat lovers, cat scratching products are ubiquitous, they are everywhere, but the standard of quality seems to be universally low; cheap carpeted boxes poorly designed and poorly executed, they offer little comfort or use to cats. There are virtually thousands of different models available. In this ocean of cat furniture, there is a return to the high quality products that have been tested over time. EVS cat climbers have been building a superior product for over three decades, yet it is experiencing a renaissance of interest as cat lovers are returning to a higher standard of cat furniture.
The decline of the small manufacturing business in North America and Europe, driven mainly by the increased import from Asia, left the customers with little but no options, when it comes to pet furniture. The imported products are tempting the customers with its beautiful ads, disguising in most cases the lack of functionality. At the same time, most of the population identifies themselves with the items they have. While the market pivot still remains mainly how a purchased item would fit in the house interior design, EVS Enterprises is focusing on how well designed cat furniture will promote cat healthy lifestyle.
There are some basic needs a cat have, related to the cat scratching trees: to scratch – this is how they peel off the top layer of their nails to keep them healthy and besides they mark their territory; to climb – this is a basic instinct related to hunting and safety; to play – this is how they develop their hunting skills. If people don't provide a playground that will satisfy all of the above, they will use something else in the household. It is the owner's responsibility to provide them with something similar to their natural habitat.
EVS Enterprises has continued manufacturing the cat furniture in the same old fashion way 30 years ago. Everything is still hand made. The focus maintains a high quality and durability. EVS has continued to improve its design, building on the original's strong heritage. Cat satisfaction is now the main goal, even if sometimes this contradicts the cat owner's vision for the furniture. The first priority, when it comes to a purchase of a pet toy or furniture, should always be the pet's needs. "We should not forget that pets are not our toys but a living creatures, as we all are", said Vladislava, the president of EVS Enterprises. "Their world is as full of emotions and complexity, as humans'. Sometimes we just don't have the eyes to see that. We should care for the cats and pets in general as our own kids." Considering the attitudes some have towards cats, Vladislava explains, "We believe that the animals are not malicious in their actions but have needs which, unfulfilled, become problems. We are trying to introduce these ideas to our customers. We have met cat owners who have told us they have overlooked this quality. The cat needs to stretch (as well as the dog) after sleep. We all do. Some cats combine this stretching with scratching. If the post is not high enough, for this purpose, they may not use it for what it was intended."
People nowadays sometimes forget what the main purpose of a cat scratching post is. It is not to save their couch. It is to thoroughly satisfy cat's needs; it is not the money that will be saved, it is the love and care that is about to be given.
The passion and optimism are slowly moving the "old fashioned" cat furniture company ahead. The owners are confident that the future will bring them success. The love and great care for the cats is the force that gives them power to continue.