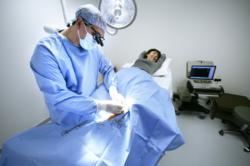 Paramus, New Jersey (PRWEB) March 07, 2013
March is Deep Vein Thrombosis (DVT) month, and the Chuback Medical Group has joined in the effort to decrease the number of serious illnesses and deaths as a result of DVT. DVT is a condition in which blood clots form in the deep leg veins. Clots can break free and travel to the lungs, potentially causing pulmonary embolism. This can be fatal if not detected and treated early.
Under the direction of Dr. John Chuback, a top vein disease specialist in Paramus, NJ, the vein clinic is using Facebook and Twitter to spread the word about this vein disorder. Chuback Medical Group has released an informative video about deep vein thrombosis to help empower the public to protect their health. Everyone should learn the symptoms and risk factors for this vein problem and seek venous disease treatment if needed.
For more information visit Chuback Medical Group online.
Varicose Vein Treatment Options
Chuback Medical Group offers patients a variety of varicose vein and spider vein treatment options. Each patient is carefully evaluated to identify the best vein treatment plan to meet their unique needs. Whenever possible, the vein center will recommend conservative treatment as a first step. This may include using compression stockings or making healthy lifestyle changes. If additional treatment for vein disease is needed, Chuback Medical Group provides leading edge therapies including sclerotherapy, phlebectomy, and endovenous laser ablation.
Patients can also find useful educational information about vein disease on the clinic's website. That includes easy-to-understand explanations of common vein conditions, symptoms, and treatments. At Chuback Medical Group, the focus is on providing the best vein treatment care in Paramus, NJ.
About Chuback Medical Group
Chuback Medical Group is a leading care provider specializing in vein disorders, aesthetic services, and medical weight loss. Located in Paramus, NJ, the clinic strives to provide patients with customized care for the face and body, using safe and effective noninvasive and minimally invasive therapies. The highly trained medical staff has extensive knowledge and expertise treating vein disorders such as varicose veins and spider veins, as well as in cosmetic medicine and healthy weight loss. Medical Director and chief vein specialist Dr. John Chuback, MD, is a leading expert in the treatment of varicose veins using minimally invasive laser technology, and a decorated provider of superior patient care for the full range of vein conditions.
Chuback Medical Group
http://www.chubackmedical.com
Tel. 201-693-4847