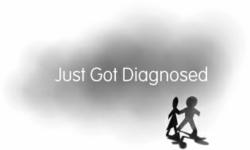 Support groups provide the opportunity to sit down and talk with people who really get what it is like to have cancer, because they have traveled the same road. Support is power!"
(PRWEB) March 12, 2013
Dr. Gary McClain addressed a meeting of the Queens Region Reach to Recovery cancer support group in Queens, NY on March 4, 2013. A specialist in the emotional impact of chronic and catastrophic illnesses, Gary McClain, PhD, developed JustGotDiagnosed.com to address a serious need he saw going unfulfilled; namely, a way for newly-diagnosed patients to receive help in coping with their emotional reactions to their diagnosis. Dr. McClain also blogs on the patient social networking site, AllianceHealth.com.
Dr. McClain's presentation focused on the psychosocial aspects of breast cancer treatment and ongoing adjustment after treatment. Topics included emotional reactions to the diagnosis and treatment, getting informed, communicating with healthcare professionals, and managing personal relationships. Attendees included women who were currently being treated for breast cancer, or had completed treatment, as well as their partners. Reach to Recovery is sponsored by the American Cancer Society.
"It was incredible to be among these wise and welcoming women," McClain said. "I was yet again made aware of the value of emotional support. Most of these women were finished with active treatment, but they continue to support each other as cancer survivors, while welcoming newly-diagnosed patients into their circle.
"A cancer diagnosis brings up a lot of emotions, and patients don't always have an opportunity to talk about how they are feeling. Their healthcare providers don't always have the time, or the skills, to help their patients cope emotionally. Family members are often attempting to cope with their own emotions, and their own feelings of helplessness. Groups like this provide the opportunity to sit down and talk with people who really get what it is like to have cancer, because they have traveled the same road. Support is power!"
About Dr. Gary McClain and JustGotDiagnosed.com
Dr. Gary McClain is a therapist, educator, patient advocate and author who specializes in working with individuals who have been diagnosed with chronic and catastrophic medical conditions, focusing on issues that include coping emotionally, gathering information, making lifestyle and treatment decisions, managing relationships, and communicating with healthcare professionals. As "Dr. Gary," he blogs on patient social networking boards on AllianceHealth.com. Founded and developed by Dr. McClain, JustGotDiagnosed.com offers information, guidance and inspiration for newly diagnosed patients, their caregivers, and healthcare professionals. His program for newly-diagnosed patients, Prepared for the Road Ahead™, is focused on emotions, lifestyle management, communications, and vision for the future. Visit JustGotDiagnosed.com.