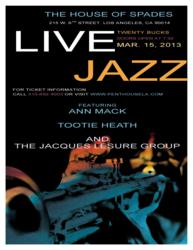 Los Angeles,California (PRWEB) March 07, 2013
The Jacques Lesure Trio began an amazing Jazz series at the HOUSE of SPADES last month and had the everybody swingin' to tunes like "The Day of Wine and Roses." It was an evening of great music, great food, and great people. The HOUSE of SPADES is located just south of the Jewelry District. A perfect place setting for entertainment.
If you missed it, here's your chance to be a part of the experience. March 15th at 7:30pm, at the HOUSE of SPADES, Jacques Lesure leads a stellar group consisting of legendary drummer Albert "Tootie" Heath of the famous Heath Brothers, one of the first families of Jazz, seasoned Jazz Vocalist Ann Mack, and Innovative organist Joe Bagg.
Tootie Heath is an American jazz hard bop drummer, the brother of tenor saxophonist Jimmy Heath and the late double-bassist Percy Heath. He first recorded in 1957 with John Coltrane. He has recorded extensively throughout his career and is a regular instructor at the Stanford Jazz Workshop. Ann Mack an accomplished vocalist, actress, story teller, portrait painter, poet and composer. The late, great Teddy Edwards took her under his wings and presented Ann in concert with him and his orchestra. Joe has played and/or recorded with many great jazz musicians like Bobby Hutcherson, Larry Goldings, and Billy Higgins,
This will be a night to remember. For ticket information go to http://www.penthousela.com/jazz-blog/.