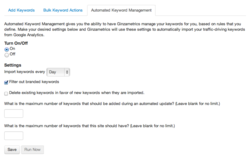 "This release is aimed at helping agencies, publishers and e-commerce sites derive value from content, while minimizing hands-on keyword management time." -- Ray Grieselhuber, Co-Founder & CEO, GinzaMetrics
San Francisco, CA (PRWEB) March 07, 2013
GinzaMetrics, a leading enterprise SaaS search engine optimization and content marketing platform, today announced the availability of Automated Keyword Management for its users. Built upon the company's existing Keyword Discovery Platform, automated keyword management allows for faster and more intelligent management of keywords that brands are tracking, and prevents wasted keyword allocation on irrelevant terms.
This release is part of a series of features aimed at making search and content more actionable for brands and agencies with minimal user inputs. By simply connecting to traffic data, provided by Google Analytics, Omniture, Webtrends, or Coremetrics, GinzaMetrics can build an entire model of users search engine performance.
This model includes data such as market sizing, daily rank monitoring, traffic analytics, content optimization recommendations, social signals insights and more. Enabling search and content marketing to live in an easy to manage platform, today's marketing professionals who now include community managers, content creators, and digital specialists, to maximize team efforts and show ROI.
The automated keyword management feature is specifically useful for publishers, agencies and e-commerce sites.
Publishers aren't always able to predict ideal keyword targets until content is live. The new automated keyword management feature addresses this by allowing publishers to launch new content and then, based on search traffic to the site, discover and track the most valuable keywords automatically, optimizing as they go.
Agencies are tasked with managing multiple client websites, making keyword prioritization on a large scale difficult. The Automated Keyword Management platform allows agencies to find the right balance of keyword management for high priority keywords, putting the rest on auto-pilot as they grow their client's traffic.
E-commerce companies must manage large numbers of keywords while ensuring they are not wasting valuable allocations in their SEO technology. GinzaMetrics now gives e-commerce firms the ability to automate their keyword management, ensuring that only the keywords contributing to their bottom line are being discovered and managed.
Automated keyword management allows users to specify rules that are automatically implemented when discovering new keywords, including:
Total number of keywords to manage
Branded keyword filtering
Automatic group-based business rules
Keyword deletion rules
Total keywords a site should have
About Ginzamarkets, Inc. Launched in late 2010, Ginzamarkets offers the Ginzametrics SEO dashboard for enterprise and agency clients. Ginzametrics presents complex data into actionable recommendations on a page-by-page basis. The complete solution covers all aspects of SEO including server configuration, broken link notifications, improved crawlability and granular keyword recommendations.
For more information, visit http://www.ginzametrics.com or contact: Erin Robbins O'Brien, Head of Strategy, GinzaMetrics Erin(at)Ginzametrics(dot)com.
###