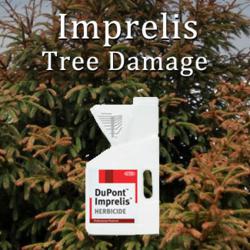 If you sustained Imprelis damage to your trees after Imprelis use, contact Wright & Schulte LLC today for a FREE Imprelis lawsuit evaluation at http://www.yourlegalhelp.com, or call 1-800-399-0795.
Dayton, OH (PRWEB) March 13, 2013
Wright & Schulte LLC, an experienced unsafe consumer products law firm, has filed an Imprelis lawsuit on behalf of a Mansfield, Ohio property owner who sustained extensive damage to trees on his property following a single application of Imprelis herbicide to his lawn. The Imprelis tree damage lawsuit, which was filed in Superior Court of Delaware, New Castle County, claims that while Imprelis was marketed by DuPont as an environmentally safe herbicide, in actuality it proved to be a frighteningly effective tree killer during its short time on the market. (Case No. N13C-02-168)
Wright & Schulte LLC is currently representing hundreds of property owners in Imprelis lawsuits filed in courts throughout the country. The firm continues to offer free Imprelis lawsuit evaluations to property owners who suffered damage to landscape trees due to Imprelis. Please visit yourlegalhelp.com, or call 1-800-399-0795 to learn more about your options for legal recourse, and what to do in case an Imprelis settlement offer maybe insufficient to replace damage.
According to the lawsuit filed by the firm in Delaware, Imprelis herbicide was introduced by DuPont in October 2010 and marketed as a safe and effective way to treat the most common and hard to kill broadleaf weeds present in turf grass without any negative impact on surrounding plants. The herbicide was applied to the Plaintiff's lawn one time on July 6, 2011. The Complaint alleges that DuPont's Imprelis product directly and proximately caused serious damage, death, and significant injury to plants and trees throughout Plaintiffs' property. As of September 6, 2012 browning, curling, signs of death and in some instances complete death were evident on at least eight trees including but not limited to full grown and mature Norway Spruces.
Among other things, the Complaint points out that the New York Times reported on July 15, 2011 that Imprelis was "the leading suspect in the deaths of thousands of Norway spruces, eastern white pines and other trees on lawns and golf courses across the country." The U.S. Environmental Protection Agency (EPA) issued a Stop Sale and Removal Order for Imprelis in August 2011, after investigating hundreds of reports of Imprelis tree death throughout the Northeast and Midwest, including reports from Minnesota, Indiana, Illinois, Ohio, Michigan, Pennsylvania, Maryland, Virginia, Delaware, Wisconsin and West Virginia. By the time Imprelis was pulled from the market, it had killed or damaged thousands of ornamental landscape trees, including Norway spruces, eastern white pines, conifer trees, willow trees, poplar trees, deodora cedars, and balsam fir trees. [epa.gov/compliance/resources/cases/civil/fifra/dupontimprelis.html]
Recently, the federal judge overseeing an Imprelis class action lawsuit in Pennsylvania granted tentative approval to a settlement that requires DuPont to compensate tens of thousands of property owners for their dead and damaged trees. The Imprelis settlement also provides for compensation to herbicide applicators for costs they incurred while investigating Imprelis damage. Participants in the settlement may still file claims for environmental or personal injury damage. [In re Imprelis Herbicide Marketing, Sales Practices and Products Liability Litigation, 2:11-md-02284]
Wright & Schulte LLC is representing hundreds of plaintiffs in Imprelis lawsuits filed outside of the Pennsylvania class action, and is offering free advice to property owners who wish to opt out of the proposed settlement. Richard Schulte, a partner with Wright & Schulte LLC, told the Columbus Dispatch last year that the offers DuPont had made to property owners via its previously established claims program were unsatisfactory. "None of our clients are participating in the settlements because the offers are inadequate," Mr. Schulte said.
dispatch.com/content/stories/local/2012/09/29/when-will-dupont-pay-up.html
About Wright & Schulte LLC
Wright & Schulte LLC, an experienced personal injury firm, is dedicated to the belief that America's legal system should work for the people. Every day, the attorneys of Wright & Schulte LLC stand up for the rights of people who have been injured or wronged, and fight tirelessly to ensure that even the world's most powerful corporations take responsibility for their actions. If you're looking for a law firm that will guarantee the aggressive and personal representation you deserve, please do not hesitate to contact Wright & Schulte LLC today. Free Imprelis lawsuit case evaluations are available through http://www.yourlegalhelp.com, or call 1-800-399-0795.
Contact:
Wright & Schulte LLC
812 East National Road
Vandalia, Ohio 45377
1-800-399-0795