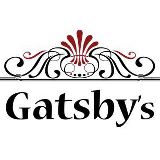 Atlanta, Georgia (PRWEB) March 07, 2013
Just in time for spring, Gatsbys brings the roaring 1920's to life with nights of new experiences, and a touch of old-world extravagance. Hidden in Midtown (on Piedmont Park), the dance club & dessert lounge opened its doors to large crowds in Midtown Promenade located at 931 Monroe Drive.
At Gatsby's the hand-craft cocktails & spirits flow, with intriguing names & taste such as "Gatsby's Giggle Water", "Tin Pan Alley", "Carolina Mule", "The Big Six". All of Gatsby's drinks are handcrafted, one of a kind creations brought to life by Gatsby's General Manager and In-house mixologist Mr. Jeremy Rhodes. All of the club's signature drinks are made with fresh squeezed fruits, top –shelf sprits. Only the best of ingredients are incorporated into the club's cocktail programs. Guests are greeted by the club's costumed bar tenders & cigar girls.
The monthly line-up of live entertainment at this unique craft-cocktail club reads like something from F. Scott Fitzgerald novel. Starting the first week of April; Gatsby's –in partnership with City of the South Theater- will host its production of "Bird Cage" on Gatsby's main stage. "Bird Cage" is love story that takes place in a burlesque club. The audience enjoys the mad-cap comedy that takes place when the ultra conservative family of "Amanda Lanier" , whom has fallen in love with "Chandler Goldman" meets his two gay fathers whom own the club. It is sure to be a rollicking, not to be missed, mad-cap comedy. The show is set to run the first three weeks of April. Box office tickets are avaliable at Gatsby's website.
Available on a nightly basis, Guests can enjoy a lineup of live music performers on the lounge or main stage, with music styles ranging from jazz band, swing, and costumed acoustical performers all appear on one of Gatsby's stages. Gatsby's has already begun pre-production on its own cabaret show which will include comedians, period lounge singers, burlesque dancers, drag performers, and show girls. The show is set to begin its weekly Wednesday and Thursday night performances starting in April.
A word of caution to the unsuspecting late-night reveler, while enjoying your handcrafted cocktail, be on the lookout for the club's resident sprit- of a different kind- The staff call this ghostly inhabitant Jeanavive. Gatsby's staff do not know the spirits origin but, it is thought that perhaps her spirit is attached to one of the pieces of century old antique furnishing or artifacts that occupy the club's front lounge. Male Club patrons have reported feeling a creeping feeling along the back of their necks in the men's room of the club. After closing, staff members have reported seeing dark shadows moving on the main stage of the club. By all accounts, Jeanavive seems to be very content to watch the imbibing of the living. Gatsby's is open Tuesday–Saturday, 6:00 P.M.-2:30 A.M.