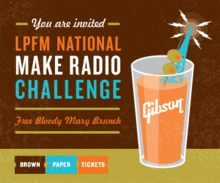 LPFM can help foster the arts and cultural communities..., close the gap on the low number of media outlets owned by people of color and women, partner with neighborhood blogs and other forms of hyper-local media to develop sustainable business
Austin, TX (PRWEB) March 08, 2013
Brown Paper Tickets, the Not-Just-For-Profit event registration and ticketing company, is producing a SXSW-style kick-off to its "National Make Radio Challenge" to proliferate low-power FM (LPFM) radio stations in communities across the nation, on March 12.
Oct. 15, the FCC will open the only application window for LPFM licenses for nonprofits, government agencies, educational institutions and tribal governments to apply for free licensing for hundreds of new radio stations in the nation's large cities. Brown Paper Tickets has committed to ensuring that there is a qualified LPFM applicant for every available frequency in Seattle, and is challenging communities across the nation to meet the same goal. The company has committed resources, such as offering assistance at no charge to any organization needing direction in their LPFM application, a series of public information sessions, an LPFM Toolkit and more.
The LPFM Toolkit and a panel to share information about how nonprofits can own their own radio station will be released at the National Make Radio Challenge launch party in Austin at the Gibson Guitar Showroom, 3601 S Congress Ave, Suite G400, from 11 a.m. to 2 p.m. on Tuesday, March 12. The event is free and open to the public who sign-up at http://www.brownpapertickets.com/event/347626, or call Brown Paper Tickets 24/7 customer service line at 1-800-838-3006. If you are in Austin and need a ride to the event, call the press contact to arrange.
WHAT?: A SXSW-style kick-off party to a national challenge to nonprofits and community groups across the country to fill every available LPFM frequency in their town with
a qualified applicant.
WHEN?: Tues., March. 12, 2013, 11a-2p. Panel begins at 12:30 p.m.
WHERE?: Gibson Guitar Showroom, 3601 S. Congress, Austin, 78704
WHO?: dj100proof will be providing a specially crafted blend of music as the soundtrack to our brunch.
Brunch will be followed by a panel featuring local and national media policy advocates and music industry professionals, including:
Sabrina Roach, Doer specializing in public interest media and director of Brown Paper
Tickets' national campaign to proliferate LPFM.
Michael Bracy, Policy Director, Future of Music Coalition
Alissa McCain, Program Manager, Austin Creative Alliance
Garlin Gilchrist II, National Campaign Director, MoveOn.org
Billy Geoghegan, Doer specializing in Music, Brown Paper Tickets
Hollis Wong-Wear, Singer in The Flavr Blue and Youth Speaks Seattle
Topics will include:
*How LPFM can help foster the arts and cultural communities in Austin and beyond, close the gap on the low number of media outlets owned by people of color and women, partner with neighborhood blogs and other forms of hyper-local media to develop sustainable business models, innovate programming and incubate talent because of low-barriers to participation, and help train and provide networking for the next generation of media professionals.
*Assessing infrastructure in your area and identifying sources of funding due to research, planning, and engineering studies required.
The public is invited and welcome to attend!
WHY?: The FCC announced that it will grant licenses for ordinary community
groups and nonprofits to create and control broadcast content on public airwaves in major urban centers for the first time in history, yet no national or daily newspaper, national broadcast outlet or local broadcast outlet in Austin has covered the story. Many nonprofits and communities who are eligible to apply for these broadcast licenses are not aware of this powerful opportunity that literally may never be offered again. The application is expected to take about 3 months to complete, due to research and planning required.
Brown Paper Tickets is putting a spotlight on the opportunity and resources available for nonprofits to fill every available LPFM frequency in across the nation with a qualified applicant.
An average of 70% of events in Seattle on Brown Paper Tickets benefit a nonprofit organization. As social entrepreneurs with a strong, 12-year relationship with the nation's nonprofits and those who support them, the company feels a responsibility to do what is within its' power to make sure they know that this once in a lifetime opportunity exists.
Brown Paper Tickets commits 5 percent of all profits to building healthy communities, as part of it's Not-Just-For-Profit business model, and firmly believes that LPFM is an important and powerful tool in that mission.
Even in the digital age, radio reaches the widest audience worldwide, and is able to connect
better with communities regardless of economics or education levels, reach listeners who are
engaged in other activities and tell stories in a way that resonates in a different way than other
forms of media are able to.
###