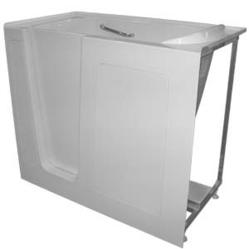 Adding more handicap shower size options will provide our customers with more choices to meet their unique needs.
Phoenix, AZ (PRWEB) March 07, 2013
Roll in shower stalls are sometimes a necessary alternative to walk in bathtubs when mobility doesn't permit safe entry. Aging Safely, an authority in bathroom safety products and safety grab bars, announces they will now be offering customers a wider range of size options for handicap shower systems.
These specialty bathing products are specifically designed with the mobility impaired in mind and can be an important appliance for seniors when aging in home. According to Aging Safely, these premium handicap shower stalls are skillfully manufactured in the U.S.A.
The company will expand their selection of handicap shower systems. They will now provide customers with a 36" x 37" x 82" four piece polyester gel coat-fiberglass shower module, as well as a premium one piece 38" x 38" barrier free shower and drain pan. These additions come in line with a recent focus on providing seniors and bathers with physical disabilities or limitations more options for creating a bathroom conducive to fall prevention.
Aging Safely understands that some customers are wheelchair bound or have significant physical limitations which inhibit safe access into a walk in tub; therefore it is essential to have other unique alternatives to bathing for these individuals. Senior bathtubs and handicap shower systems can be easily installed in most locations or bathrooms and require very little modifications typically. Several of the more popular step in tub models are designed to replace most traditional size bathtubs.
The new sizes that are now being offered by Aging Safely, will also come with built in padded seats and safety grab bars for additional security. Optionally shoppers can purchase mixing valves which help regulate the temperature of the water entering the shower or step in tub. These devices can be incredibly useful for bathers who suffer from any kind of cognitive impairment that may affect thought or motor skills.
Senior bathtubs also have accessory options like thermal mixing valves and safety grab bars, very similarly to a handicap shower. Although walk in bathtubs do offer more luxurious features such as air or water jets, colored mood lighting chromatherapy and even aromatherapy or back heaters. For bathers capable of walking into walk in tubs, these special features can be enjoyed in the comfort of home.
However, Aging Safely acknowledges the most important factor is ensuring customers have a way to bathe independently and have a means to clean their body on a regular basis. Bathing is a very important part to having good hygiene and might even contribute to overall quality of health. Aging Safely Walk In Bathtubs invites shoppers to contact a specialist for a no obligation consultation regarding the options available for walk in tubs and handicap shower systems.
Contact Information:
Zach Wennstedt
info(at)agingsafelybaths(dot)com
1-888-779-BATH(2284)