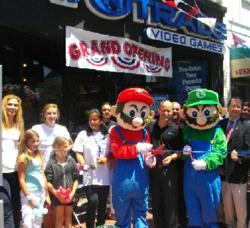 Play N Trade has been a very successful franchise in North America and we are excited to bring the brand to Central America
San Clemente, CA (PRWEB) March 07, 2013
Play N Trade is proud to announce Rogelio Cucalón Garcia and Johann Palma are opening the first Play N Trade stores in Central America. The new franchise owners are excited about bringing the Play N Trade brand to Panama. Play N Trade sees a growing interest of franchise development in not only Latin America, but Asia and Europe as well.
Johann Palma states, "Play N Trade has been a very successful franchise in North America and we are excited to bring the brand to Central America. We know that our customers will appreciate the excellent customer service and wide selection of gaming and consumer electronics that Play N Trade has to offer." Cucalón added, "We are especially excited about bringing our electronics trade in services to Panamá. The ability to trade in your old phone, tablet or game system for a newer model will definitely appeal to tech savvy consumers who like to keep up with the latest technology."
The new stores will be located at the Albrook Mall and Multicentro Mall in Panama City. The first store is scheduled to open on April 2013 with a grand opening and series of consumer directed events. Rogelio and Johann know the Panama market and will do a great job introducing Play N Trade to the people of Panama," expressed Charles Franklin, EVP of Franchise Development at Play N Trade. "Rogelio and Johan have extensive business experience and are the perfect partners to launch our brand in this exciting market."
Cucalón and Palma were inspired to open Play N Trade franchises in their home country of Panama after visiting the stores in North America. Palma excitedly states, "The first time I stepped into a Play N Trade I was really impressed with the amazing interactive gaming experience. Panama's clientele has always been known to be a highly sophisticated market with tremendous appreciation for high-level customer service. That was something I hadn't seen in a franchise before, and I knew it would be appreciated by the people of Panama."
About Play N Trade
Play N Trade is one of the largest video game and consumer electronics retail franchises worldwide. The company specializes in the sale, repair and trade-in of video games and consumer electronics. Play N Trade stores offer an entertainment lifestyle experience in its innovative store design where customers can Try Before They Buy. This provides an emotional attachment and appeals directly to the consumer's passions. Many customers say simply "This is the best store I have ever been to!" The company's office is located in San Clemente, CA. For more information please visit http://www.playntradevideogamefranchise.com or call (888) PNT-GAME.
###