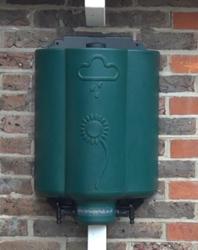 Water Butts no longer need to be next to the downpipe, but can now be anywhere in the garden that is most convenient.
(PRWEB UK) 8 March 2013
Sussex Manufacturer RDP Garden Products Ltd is launching the Rainwater Hub to coincide with the start of the 2013 water butt season.
The Rainwater Hub channels rainwater 150 feet to water butts, 25 times further than any currently available rainwater diverter. The Rainwater Hub is a rainwater harvesting system that uses gravity to distribute rainwater through regular garden hoses.
Collecting water with water butts can be an important part of an overall water conservation plan, however they have been of limited value as the rainwater collected must also be stored next to the house. Many households may only install a single water butt due to the space constraints next to the property.
The Rainwater Hub is a simple, elegant solution. A reservoir creates pressure to channel rainwater through garden hoses to water butts. These can now be moved away from the house and relocated wherever is most convenient in a garden.
The harder it rains, the more pressure is generated within the Rainwater Hub, and the faster the water will flow to the water butts.
Features

DIY installation in less than 30 minutes
No pumps or moving parts
Requires almost zero maintenance
Zero operating cost
Zero operating carbon footprint
Manufactured in the UK
30 day No-Risk Return and 10 year Water Tight Guarantee
The Rainwater Hub costs £99, with free UK mainland delivery.