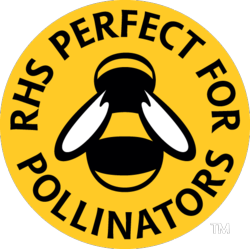 "Pollinating insects such as bees, moths, butterflies and hoverflies are essential for around 1/3 of global food production - and they never invoice us for their time" Angela Lambert, Q Lawns
feltwell, norfolk (PRWEB UK) 9 March 2013
Q Lawns turf growers are proud to announce that Meadowmat Wild Flower Matting and Enviromat Sedum Matting have both been recognised as pollinator friendly by the Royal Horticultural Society who have authorised Q Lawns to display the RHS Perfect for Pollinators logo alongside both products.
The RHS Perfect for Pollinators mark is only given to plants that support pollinating insects in gardens. Bees, butterflies, moths, hoverflies and many others visit flowers to feed on nectar and pollen; while doing so they transfer pollen and increase seed set and fruit development.
Enviromat sedum matting is often used for low maintenance ground cover or for creating green roofs on garden buildings. It contains a mixture of 6 different species of low growing sedum plants and a smattering of Meadow Saxifrage all of which are very attractive to butterflies and bees. Sedum flowers are star-shaped and open wide so the pollen and nectar are easily accessible to insects.
Meadowmat contains an impressive 34 species of native plants and grasses and as well as supporting pollinating insects is a superb source of food and shelter for a really wide range of beneficial wildlife from arachnids to amphibians.
Angela Lambert from Q Lawns says "We are enormously proud to have RHS approval for Meadowmat and Enviromat. Encouraging biodiversity and caring for wildlife are high on our agenda and it's great that such a well-respected organisation agrees that Meadowmat and Enviromat are good for supporting those all-important pollinators"
Q Lawns turf growers are based in Norfolk UK and supply quality lawn turf, wild flower matting and enviromat sedum matting to householders and landscape professionals throughout England and Wales. In 2013, Q Lawns will be celebrating two decades of turf production and 10 years of growing sedum matting for small green roofs.