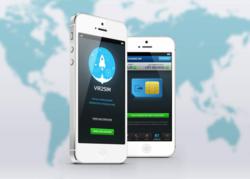 Users can connect first virtual number for free and use provided bonus to test the quality of calls.
(PRWEB) March 08, 2013
Mobile start-up VIR2SIM (vir2sim.com) was launched to a global market. New virtual mobile operator allows users to get more calls from clients or family abroad by extending his phone with foreign numbers. Call to a virtual number costs international callers the same as a local connection.
Despite Internet and global communications' growth, people are still limited by their local mobile providers. VIR2SIM project developed by Latvian company Arcana Digital Group aims to break all limits forever, connecting foreign numbers to local SIM-cards.
The purpose of VIR2SIM is to offer an easy-to-use service for receiving calls from business-clients, friends or relatives from abroad. The service doesn't require any additional hardware, complicated registrations, agreements or ID authentications. It is possible to connect up to 20 international numbers to any SIM-card in seconds – no matter where you are, using website or mobile app.
VIR2SIM is a cohesion of VoIP technology with GSM connection. Basically, VIR2SIM took the best of both, but the main difference from other telephony solutions is using existing GSM subscription to connect incoming calls, and on the same time ensuring high-quality talking experience, not depending on 3G or WiFi speed. International connection is provided by VoIP technologies, thus avoiding expensive long-distance charges.
"Once a virtual phone number has been set up, you can start receiving calls from abroad. Any call to your virtual number will be forwarded to your actual number. People who call your virtual number will pay a local call charge (which is free nowadays in most national mobile operator offers). You will pay just a few cents for incoming call, according to VIR2SIM rates.
"Users can connect first virtual number for free and use provided bonus to test the quality of calls. VIR2SIM lets you have a whole world in a single SIM-card," explains Nick Ustinov, CEO of VIR2SIM.
Enterprises were the first to test the service. Several international real estate agencies have already tried to connect foreign numbers to their phones. As of their opinion, customers are more likely to call accustomed and clear local number without any codes and additional costs. Test results show that the number of calls from international listings increased by 31% average.
The service has amazingly simple interface. Users are able to receive inbound calls, place outbound callback from virtual number, connect and manage multiple numbers, browse calls' history, import contacts, easily forward virtual numbers to another mobile or landline phone number with a single click. All functions are available on desktop version and on Android and iOS apps. Currently the service allows to connect virtual numbers from 19 countries including U.S., UK, Russia, Ukraine, Sweden, Israel, Australia and others, with more to come.
The developer of VIR2SIM.com is Latvia-based start-up launcher Arcana Digital Group. At this point, the startup has already raised $500,000 in funding from European angel investors.
To get a first look at the service, please visit http://www.vir2sim.com.
Download free VIR2SIM mobile apps:
Android - https://play.google.com/store/apps/details?id=com.arcana.vir2sim#?t=W251bGwsMSwxLDIxMiwiY29tLmFyY2FuYS52aXIyc2ltIl0.
iOS - https://itunes.apple.com/app/id590364835
Watch VIR2SIM video:
http://vimeo.com/50321617
VIR2SIM spotlight on Killerstartups:
http://www.killerstartups.com/startup-spotlight/vir2sim-virtual-phone-numbers/