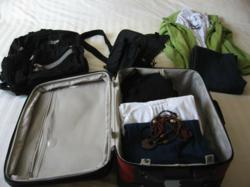 Follow the weather so packing can be done appropriately
Kent (PRWEB UK) 8 March 2013
In yesterday's article, Luggage Superstore gave some ideas on what items should be prioritised when packing a holiday suitcase. The article covered travel documents, toiletries and first aid items. The next step would be to look at packing:
Electricals: This may include double checking for travel hair dryers or irons, mobile phones, laptops, chargers, adapters, cameras, spare batteries, headphones etc.
Carry-on luggage: This is the interesting part. What you put in this little bag can be fun. Pack snacks of all sorts for the flight and also for the waiting time at the airport (as buying food at the airport can be very dear). The carry-on luggage may be a good place to keep important documents as it is always on your person. Take along travel pillows, tissues, sleeping mask, toiletries that are allowed on the plane but they would need to be displayed in clear bags, writing paper, and pen etc.
Now for clothes: This category is a bit tricky as it all depends on what type of holiday is being packed for. For colder climates, pack coats, jumpers, scarves, gloves, warm footwear like boots etc. For warmer climates, pack cool clothing like T-shirts, shorts, cool footwear like sandals and flip-flops. However, there are the necessities that need to be packed despite any type of holiday. Here they are: underwear, socks, shoes, tights, swimming clothes and accessories, clothes for sleeping in, skirts, dresses, trousers, shirts, blouses, vests.
For any holiday, always research the area before hand. Follow the weather so that packing can be done appropriately. This can help to avoid too much packing of unwanted items.
Luggagesuperstore established site is in West Kingsdown, Kent. Their aim is providing competitive prices of the highest quality luggage and top-calibre customer service for online luggage shopping. Luggage Superstore recommends Carlton Luggage.
Trina Chee-a-kwai
Luggage Superstore
01474 854666
Email information