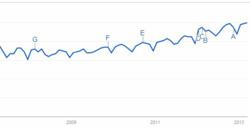 Since 2005, search terms related to anxiety – always a popular search term – have increased steadily over the past 3 years, and have peaked as of February 2013.
Pompano Beach, FL (PRWEB) March 09, 2013
Anxiety statistics are on the rise. Calm Clinic, a website which devotes a wide body of articles on anxiety and panic attacks, reports that according to their analytics and Google trends, a significant number of individuals from all over the world are regularly seeking information on anxiety symptoms – and the number appears to be growing.
According to Google trends, searches for anxiety have been steadily rising. Since 2005, search terms related to anxiety – always a popular search term – have increased steadily over the past 3 years, and have peaked as of February 2013. This represents a 180% increase since the lowest point in December of 2007.
Calm Clinic also reports a significant increase in search volume from 2011 to 2012, and unique visitor numbers have already started out strong in 2013. The most common search terms appear to include:

Anxiety disorders.
Symptoms of anxiety.
Social anxiety.
This indicates that those looking for information tend to have very specific issues they need answered. "Since many of the people that visit our site have already seen a doctor, it points to a clear lack of understanding of anxiety in either the medical field or within common knowledge," says Calm Clinic founder Ryan Rivera. "The sheer amount of misleading information about anxiety statistics is mind boggling."
So what is causing the increase in anxiety requests?
It's possible that a struggling economy, uncertainty in the political world, and safety issues in local communities could all be responsible for the increase in anxiety information seeking behavior.
But Ryan Rivera thinks it's much simpler than that.
"There is a dialogue now about anxiety, and greater awareness that anxiety exists. The next logical step is that more people are trying to understand what anxiety can actually do," says Ryan. "It doesn't take long to realize that anxiety is more than just a problem with nervous thinking, so now people are trying to learn more about whether or not their symptoms can be anxiety and what they can do to stop it."
The more people search for anxiety terms, the more quality information becomes an important part of helping people understand their symptoms better, along with the need to ensure that information is written in such a way that it doesn't fuel anxiety further.
While more people searching for anxiety information represents a positive change in an environment that generally looks down on mental illness, Google searches are only the first step. In time, the hope at Calm Clinic is that knowledge about anxiety will be widespread enough that people will identify their anxiety early and treat it without a second thought. An increase in information seeking is at least a step in the right direction.
About Calm Clinic
Calm Clinic is an anxiety and panic attack focused website founded by Ryan Rivera. Calm Clinic is currently home to hundreds of specific pages about anxiety symptoms and treatments, and with content that is updated and altered as more is understood about anxiety and panic. More information on anxiety can be found at http://www.calmclinic.com.