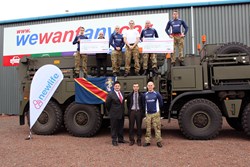 "These soldiers are really going the extra mile in their support for a fantastic local children's charity.
(PRWEB UK) 8 March 2013
The Motorhouse Group, Staffordshire's Premier used car supermarket, and WeWantAnyCar.com are sponsoring soldiers of the Stafford's Beacon Barracks to run the London Marathon. Seven soldiers from MOD Stafford's 22nd Signal Regiment will be taking on the capital city's most famous stamina challenge in order to raise a total of £20,000 for Newlife Foundation for Disabled Children – who support disabled and terminally ill children across Staffordshire.
Twelve soldiers began winter training in January with the group, but only seven will take on the herculean task come April. The successful candidate's challenge will be made even tougher by negotiating all 26.2 miles of road while carrying 40lb military packs and Newlife collecting buckets to raise more funds along the way. To make sure they hit their £20,000 target the group will be hosting numerous fundraising events in the run up to the marathon in April; including collections at Stoke City's Britannia Stadium and four half marathon runs around the Midlands.
Motorhouse Group and WeWantAnyCar.com, who offer a free car valuation to all customers, have donated £3,500 in a salute to the brave soldier's efforts. To help further, The Motorhouse and WeWantAnyCar.com will be holding fundraising events later in the year with the support of MOD Stafford, who will be supplying the use of Military vehicles and a pop up climbing wall for the public to explore and enjoy.
William Morris, Motorhouse Group's Marketing Manager indicated that it was an "absolute honour" for the company to sponsor such a noble cause, saying: "These soldiers are really going the extra mile in their support for a fantastic local children's charity.
We are always happy to put our hand in our pockets for local charities that do so much for disabled and terminally ill children in the Midlands. To be brutally honest, most of the team at Motorhouse and WeWantAnyCar.com are just glad that we don't have to do it with them; it's going to be an amazing achievement for all the guys involved," he added.
Warrant Officer, Bill Sykes – who will be marshalling his troops through the challenge – admitted that the "gruelling" training will take its toll on his brigade's minds and bodies, but that it will all be "worthwhile for a locally-based national charity that makes so many children's lives a little easier."
About The Motorhouse
For over 25 years, The Motorhouse has been selling affordable new and used cars to thousands of satisfied customers. The Motorhouse car supermarket based in Cannock, Staffordshire, has forged a reputation of selling some of the best value and most desirable next-to-new and used cars in the Midlands.
About WeWantAnyCar.com
WeWantAnyCar.com is the UK's favourite car buying service offering instant free, no obligation car valuations online and in person. They have nurtured a growing reputation for being the fastest, simplest and most reliable car buying service with over sixty locations nationwide.