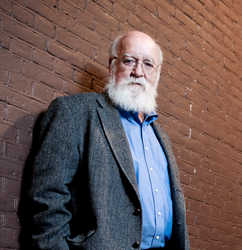 I'm delighted to welcome Daniel Dennett to NCH and I know that faculty and students alike are looking forward to his lectures with great interest.
Bloomsbury, London (PRWEB UK) 7 March 2013
Today, Thursday 7 March 2013, Professor Daniel C Dennett will commence his 2013 lecture series at New College of the Humanities, London.
Professor Dennett will deliver four lectures on the topic of Cultural evolution and the well-equipped brain. Professor Dennett will also participate in a debate with Professor Nicholas Humphrey on the question: Turning two views of consciousness into one: Is it possible?
Daniel C. Dennett is University Professor and Austin B. Fletcher Professor of Philosophy, and Co-Director of the Center for Cognitive Studies at Tufts University. He has held visiting positions at Harvard University, the University of Pittsburgh, the University of Oxford, the École Normale Supérieure in Paris, and the London School of Economics.
Professor A C Grayling, Master of NCH said: "I'm delighted to welcome Daniel Dennett to NCH and I know that faculty and students alike are looking forward to his lectures with great interest."
Professor Dennett's lecture series forms part of the Science Literacy module, which is being taught in its entirety by Professors Richard Dawkins, Lawrence Krauss, Steven Pinker and Daniel C Dennett.
In Michaelmas 2012, Professor Richard Dawkins gave a series of four lectures on Evolutionary Biology and Professor Lawrence Krauss gave a series of seven lectures with the title: From Big Bang to Eternity: Life, the universe and everything.
All students at the College take the Science Literacy module, in addition to their undergraduate degree, contextual course, modules in Applied Ethics and Logic & Critical Thinking, plus the Professional Programme.
For further information, please contact: The NCH Press Office on 020 7400 7398 or email nchum(at)hanovercomms(dot)com.
Notes to Editors
New College of the Humanities (NCH) offers a new model of higher education for the humanities in the UK. NCH students enjoy one of the best staff-to-student ratios in UK higher education and benefit from a high number of quality contact hours as well as engaging and challenging one-to-one tutorials.
Our Professors are international experts in their fields and our full time academic staff members have been selected for their proven ability for teaching in addition to their research interests.
NCH welcomed its first intake of students in September 2012 and prepares students for undergraduate degrees in: Economics BSc; English BA; History BA; Law LLB and Philosophy BA. The College has recently announced that the Politics & International Relations BSc will also be offered from 2013.
In addition to their 12-module degree, all NCH students study a further seven modules. This is comprised of four modules from another degree subject or Art History, or Classical Studies as a contextual course and three core modules in Applied Ethics, Logic & Critical Thinking, and Science Literacy. All students also follow the College's Professional Programme.
The College is centrally located in Bloomsbury, London's university district and students, as associate members of the University of London, have access to many of the resources of the University of London: the exceptional library in Senate House, the University of London Union, sports facilities, and many other opportunities to enrich themselves through extra-curricular activity.
The College's rolling applications process is independent of UCAS and applications can be made in addition to the five UCAS choices. The next application deadline is 11 March 2013.
Visit http://www.NCHum.org for all enquiries and applications.