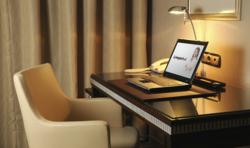 We have been most impressed with the service from Liveport. Nothing has been too much trouble and they have gone out of their way to find solutions
Andover, Hampshire (PRWEB UK) 8 March 2013
The contract is Liveport's first in the UK hospitality market as part of a recent expansion. Liveport services more than 400 properties in the United States, Canada, Mexico and Australia.
"We have been most impressed with the service from Liveport. Nothing has been too much trouble and they have gone out of their way to find solutions," said Ian Taylor, owner of The Best Western Abbey Hotel.
Taylor points out that guest demands on their wireless systems have skyrocketed in the last year and as a result of this required a Wi-Fi partner who is willing to assist with day to day queries from our guests, as well as providing a good quality system. "They care passionately about looking after the customer and want to get it right," he said.
"We are very proud to have been chosen as a trusted partner of the Abbey Hotel," said Joe Burnell, Managing Director, Liveport UK. "They are benefiting from the relationships, service and technology we've already deployed around the world, but is now available in the UK for the first time. I look forward to working with the Abbey Hotel and many other hotels in the future with the aim of making guest Wi-Fi networks easy, fast and reliable."
Gerry Bakker, President of Liveport, sees the company's technology, service and support—along with a unique business structure—as keys to success in the UK market.
"The way we offer guest wireless to hotels is slightly different to what's on offer in the UK currently," he said. "We charge a small monthly fee of £2.99 per room, per month and this includes everything, from the installation, hardware, 24/7 guest support and upgrades as new technology becomes available. We manage and maintain the WiFi system going forward, rather than installing the system and then walking away from it. We felt there was a gap in the market for this service in the UK and we are now working hard to fill that gap."
"In what was a confusing and technical industry with a lot of venders who overcharge and underperform, we've made things simple and straightforward," said Bakker. "We take all the guesswork away: anyone can figure out exactly what they'll pay year to year right on our website. And if we don't perform, our clients aren't locked into a long-term contract. I think hoteliers appreciate that level of transparency, and I know it makes us a stronger company."
Bakker notes that Liveport is the only major wireless Internet vendor to include hardware, installation, monitoring and support in one low price.
About Liveport: Liveport provides wireless Internet in more than 35,000 hotel rooms across North America, Australia and the UK. Liveport's customer brands include Holiday Inn, Westin, Crowne Plaza, Best Western, Days Inn, Quality Inn, Comfort Inn, Super 8 and Ramada, as well as many boutique hotels. Liveport provides an end-to-end solution for hotels, packaging all planning, access points, installation, upgrades and 24/7 freephone guest technical support one low monthly price.