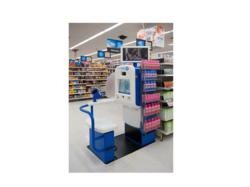 "We are exploring new ways we can leverage our versatile platform to continue to help better our nation's health and healthcare system, especially as the country prepares for the Affordable Care Act (ACA) rollout."
Atlanta, GA (PRWEB) March 07, 2013
SoloHealth®, a consumer-driven healthcare technology company, announced today that its SoloHealth Station® digital health and wellness kiosk is now in more than 2,000 retail locations nationwide, more than doubling its growth in only three months. The company's rapid expansion comes as it continues a nationwide rollout, projecting the SoloHealth Station to be in more than 3,500 locations by end of year. The SoloHealth Station is currently in select retailers across America, including Walmart, Sam's Club, Safeway, and Schnuck's Markets.
"We are thrilled to be expanding our free healthcare access platform, the SoloHealth Station, providing more Americans access to free health and wellness services, tools and information," said SoloHealth Founder & CEO Bart Foster. "By end of March, we will be within a 10 minute drive time of 48% of the US population, which shows the scale and reach of the Station across the nation. As we grow, we are exploring many new ways we can leverage our versatile platform to continue to help better our nation's health and healthcare system, especially as the country prepares for the Affordable Care Act (ACA) rollout."
The SoloHealth Stations are being used by more than 2.5MM people a month and they have been running at 98% uptime. To date, more than 9 million consumers have interacted with the kiosk, up from 2.5 million in late August. Additionally, daily consumer usage has increased going from 10,000 per day at the end of August to approximately 85,000 today.
SoloHealth Data & Consumer Engagement Stats:
9MM+ – Consumer interactions have surpassed 9 million; continues to grow.
85,000 – Approximate number of users per day nationwide.
4.5 mins. – Average number of minutes each consumer spends per session with the kiosk.
2,100 – Current number of SoloHealth Stations in market.
3,500 – Estimated number of SoloHealth Stations to be in market by end of 2013
33% – Approximately 33% of users took more than one test; blood pressure and BMI highest combo.
57% - Percentage of consumers that tested for blood pressure, the most widely used single test.
20% - Saturdays drove 19% more users than other days.
35+ – 65% of male and female users are 35 and older. (55% male, 45% female)
71% - Percentage of SoloHealth Station users that are at medium to high risk of hypertension.
51% - Percentage of SoloHealth Station users that are overweight to obese.
31% - Percentage of SoloHealth Station users who are uninsured
25% - Percentage of consumers that are returning users.
95% - Satisfaction rating on accuracy of results, length of the experience, and likelihood to use again.
*Consumer "interaction" constitutes a consumer taking at least one test per session.
The SoloHealth Station is a healthcare access platform for consumers providing screenings for vision, blood pressure, weight, and body mass index, a symptom checker as well as an overall health assessment free of charge. The Station also connects consumers to local professionals through their databases, helping people enter the most appropriate and accurate point in the health care system. Additionally, the Station can serve as a valuable resource to provide health and wellness information and services, offering a convenient, user-friendly platform to make health information and data easy to access, inform, store and share.
The Station offers highly personalized, targeted and interactive opportunities for consumers, advertisers and retailers by placing kiosks in high-traffic retail locations and offering integration across a multi-platform ecosystem complete with digital signage, Internet and mobile. The SoloHealth Station is backed by technology that allows for flexibility to make changes remotely and quickly so the company can continue to expand the services offered to consumers and advertising partners.
ABOUT SOLOHEALTH: Based in Atlanta, Ga., SoloHealth® is a leader in self-service consumer healthcare, utilizing patented technology to deploy interactive health screening kiosks to empower consumers about their health through awareness, education and convenience. The company's award-winning first offering was the EyeSite Vision kiosk. In Summer 2010, the company received a $1.2 M grant from the National Institute of Health (NIH), a division of the U.S. Department of Health and Human Services, to help enable innovation for self-service healthcare and prevention. In 2011, SoloHealth announced its next-generation kiosk, the SoloHealth Station, offering vision, blood pressure, weight, symptoms checking, body mass index, overall health assessment; and access to a database of local doctors. The company's bilingual kiosks provide free health screenings and recommendations for follow-up care, which leads to prevention and lower health care costs. Strategic investors and partners include Coinstar/Redbox (CSTR), Walter Huff (founder of HBOC), WellPoint and Dell. For more information, visit http://www.solohealth.com or @SoloHealth.