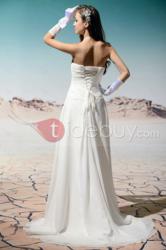 (PRWEB) March 08, 2013
TideBuy.com, one of the the leading wedding dresses stores, has recently introduced its new collection of vintage wedding dresses. There are 344 items in this collection, and they are designed in different lengths, colors and styles. No matter A-line strapless vintage wedding dresses, or empire strapless chiffon vintage wedding dresses, they are true to their origins, and available in all sizes.
Vintage wedding dresses have become a recent bridal trend because going vintage is the most economical way to wear something 100 percent unique for a wedding day. TideBuy.com's vintage wedding dresses are made from natural fabric at the right prices.
"At TideBuy.com, each customer is ensured to enjoy weekly addition of new dresses with quick courteous response, fast shipping and hassle free returning policy," said, Edmond Liu, a source from the company. "For the bride-to-be who has a love of vintage and is looking for something special to express her own unique sense of style, she should browse through our new collection."
Edmond Liu emphasized, "Whether you are planning to attend a formal evening wedding or a summer wedding on a beach, TideBuy.com is the ideal site for those who plan to buy wedding dresses online."
Moreover, the company is offering heavy discounts on its wide range of casual wedding dresses, bridesmaid dresses, cocktail dresses, evening dresses, and so on. What's more, custom service is also available.
About TideBuy.com
TideBuy.com offers one of the most extensive and stylish collections of wedding dresses and other special-occasion dresses at acceptable low prices, and its products include wedding dresses, prom dresses, cocktail dresses, and, etc. They are devoted to helping couples design their own dresses without sacrificing the top-quality materials and fast delivery.
More information can be found at:
http://www.tidebuy.com/?utm_source=content&utm_medium=news&utm_campaign=index