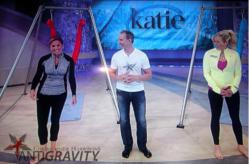 (PRWEB) March 08, 2013
It's another "Fun Friday" on Katie. First, these two talk show divas join forces to interview the one and only Cyndi Lauper before trying the latest fitness craze – AntiGravity® Yoga led by AntiGravity® Fitness guru Christopher Harrison. Christopher was delighted and amused by their prowess and agility.
Katie Couric is no stranger to AntiGravity®. In 2000, she introduced The AntiGravity® Boot's Team for the first time on national TV on the Today Show and while hosting the Macy's Thanksgiving Day Parade.
AntiGravity® is America's premier aerial acrobatic entertainment and fitness company established in 1991. Founder Christopher Harrison is also the Originator of the Suspension Fitness and Aerial Yoga genres. He established AntiGravity® Fitness in 2007. The latest fitness craze AntiGravity® Yoga is one of five AntiGravity Fitness techniques which also include: AntiGravity® Fundamentals, AntiGravity® Suspension Fitness, AntiGravity® Yoga Restorative, AntiGravity® Pilates.
AntiGravity® Yoga officially launched in 2007. AntiGravity® Fitness techniques are now practiced in more than 30 countries and attract over 6,000 daily practitioners.