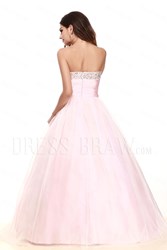 (PRWEB) March 08, 2013
DressBraw.com has released its Wedding Dresses Spring 2013 collection. The company is known for its low prices and quality products, and there is no exception for this new collection of Wedding Dresses Spring 2013. Moreover, DressBraw is also offering free shipping and great discounts, up to 70%, for its customers worldwide.
All new wedding dresses are available in varying styles and colors. DressBraw.com claims that they provide "cheap and delicate products online" for everyone around the globe. No matter beach wedding dresses, casual wedding dresses, or ball gown wedding dresses, DressBraw.com has something for its clients.
According to Edmond Liu, a spokesman of the company, cheap prices don't mean a quality compromise; DressBraw.com uses 'the best sources for all products,' and a close quality check ensures that the products meet international standards.
Moreover, DressBraw.com also offers its new collection of Evening Dresses 2013 (plus size evening dresses included) at very reasonable rates, which are fully handmade customized. So whether it's a ready to wear laced gown or a custom made strapless long wedding frock, DressBraw clothes are delicate and stunning.
All kinds of wedding dresses can be purchased online at DressBraw.com. The facility of free shipping and the extraordinary delivery service adds up to the pleasure customers derive from buying the spectacular DressBraw clothes at incredibly cheap prices.
DressBraw.com is a China based company which specializes in supplying wedding dresses and other dresses for special occasions. The company is a leading manufacturer of such clothes and is doing business in more than 230 countries. In addition to this, DressBraw also has an excellent customer service and safe purchasing setting.
For more information, please visit: http://www.dressbraw.com/?utm_source=content&utm_medium=news&utm_campaign=index