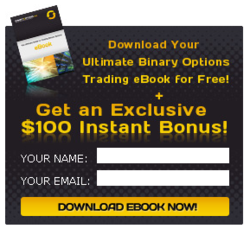 The Ultimate Guide to Trading Binary Options eBook is Great for Beginners and Experienced Traders Alike - Adam Grunwerg
(PRWEB) March 11, 2013
BinaryOptions.com, the world's leading binary options trading, education and news portal, has launched their first exclusive eBook entitled "The Ultimate Guide to Trading Binary Options".
The eBook, which can be downloaded for free at the site BinaryOptions.com, contains more than 10,000 words explaining how to trade binary options and finish in the money.
Unlike other eBooks offered by brokers, which are paltry and thin in content, the Ultimate Guide to Trading Binary Options eBook contains a wealth of information for both new and experienced traders alike.
Click This Link to Download the eBook Now!
New traders can study and learn the different stock indices such as the FTSE 100, DAX 30, NASDAQ 100, Nikkei, S&P 500 and Hang Seng.
Experienced traders can also learn how to use special features such as the rollover, double up and early closer or "buy me out" functions offered by certain platforms.
The new eBook contains a range of sections that includes:

An introduction to binary options trading
Understanding the different trade types and asset classes
Learn how to trade major stock indices (FTSE, DAX, Nikkei and S&P), Commodities and Forex
How to execute trades and special functions
A comparison of different binary options platforms (including Spot Option, Tech Financials and Market Pulse)
An introduction into technical and fundamental analysis.
Glossary
In addition to the eBook, users that sign up and download the free guide will also receive an exclusive instant $100 bonus at the leading binary options broker, Traderush.com.
About BinaryOptions.com:
BinaryOptions.com is the No.1 binary options trading, education and news portal. Founded by a group of professional options traders, users can find a panoply of beginner and advanced binary options strategies on the site, which can't be found anywhere else.
The site will also soon be running exclusive promotions and competitions on its Facebook Page as well as to users that subscribe to its newsletter and eBook.
For more information, visit: http://www.binaryoptions.com