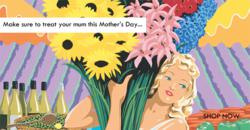 great selection of Mother's Day gifts for the older and younger
London (PRWEB) March 07, 2013
What to get for the mum who has everything? Want to really spoil her this Mother's Day? Need something last-minute? Or in a different country and want to make sure your mum is not forgotten on Mother's Day? Not a problem - Quintessentially Gifts can sort out any Mother's Day dilemma.
Quintessentially Gifts have a great selection of Mother's Day gifts for the older and the younger and for those new mums, grandmothers, step-mums, godmothers - all kinds of mums! How about a Pullman Editions poster, bright enough for the Springtime, or a mini Brique Constance Hermès bag, perfect for dinners out or as a daytime bag. Why not treat your mum to an Astley Clarke brightly coloured bangle, stack-able with the other bracelets for a true style statement?
For a bespoke day out, why not treat your mum to a personal styling or personal shopping appointment? Quintessentially Gifts' experienced editorial stylists are dedicated to creating a unique personal styling or shopping experience. Whether editing and updating an existing wardrobe or sourcing a last minute event look, the styling service is open to all, and can be individually tailored to a client's needs. All of Quintessentially Gifts' relationships are genuine and long-term, providing an ongoing fashion advisory, and a purely bespoke service that makes a style update both simple and satisfying.
Alongside gifts presentations for Mother's Day, the team also source hard-to-find items, limited-edition products, bespoke items and Hermès bags – so if there is something not shown on the Gifts website, just get in touch and one of the personal shopping team will endeavour to help.
Personal Shopping Team gifts(at)quintessentially(dot)com + (0) 845 224 2617