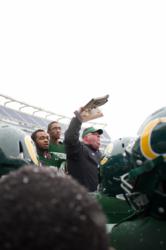 Once we developed the discipline and the commitment to academics, the X's and O's took care of themselves
Boston, MA (PRWEB) March 07, 2013
Cathedral High School Athletic Director and Head Football Coach Duane Sigsbury earned another prestigious coaching honor. He has been named the High School Masters Coach of the Year by MastersSports. MastersSports is a non-profit corporation created to promote the game of football. The organization raises funds for educational scholarships for college, high school, and youth football players. Additionally, it also provides quality instruction and community building among football coaches at all levels to share skills, schemes, and techniques with other coaches through clinics.
After leading Cathedral High School to back-to-back Super Bowl appearances in 2011 and 2012, the Panthers captured the Cathedral's first ever football State Championship with a 22-20 double overtime victory over Madison Park. Coach Sigsbury was also selected as the Patriot's Coach of the Week following the win and was also selected as the Massachusetts Adidas Coach of the year. Sigsbury will be honored at MastersSports banquet this Saturday at Gillette Stadium.
After a controversial call that cost Cathedral a chance for the title in 2011, Sigsbury and his team overcame several adversities to return to the title game and win. Even though Cathedral dominated Madison Park throughout the championship game, a few big plays and some key Cathedral mistakes kept the score close. Add inclement weather, an early game time, and an injured running back to the equation, and many wonder how Sigsbury and the Panthers still pulled off the win.
One reason for the win was the epic individual efforts by Cathedral quarterback Kejonte Hickman coupled with a stellar performance by Cathedral's defense. The five-foot-six, one-hundred-sixty pounds Hickman rushed forty-six times for two-hundred-forty-six-yards and three touchdowns. The defense held Madison Park to just twenty-seven yards of offense on the ground. Had the Panthers not given up an interception return and a kick-off return for touchdowns, the game would not have been close.
Most of the reasons why Cathedral won that game happened because of a lot of hard work and major changes to the program. Since Sigsbury took over the program two years ago, he brought high energy, enthusiasm, and discipline to Cathedral football. As a result of their efforts, Sigsbury and the Panthers have a 23-3 overall record, with back-to-back league titles and Super Bowl Championship.
"The number one thing we had to change at Cathedral was the discipline and the commitment to being a student athlete. We have rules that everyone has to adhere to or they can't be part of the program. Once we developed the discipline and the commitment to academics, the X's and O's took care of themselves," said Sigsbury. The discipline and hard work really showed in the development of the players. This year Sigsbury's football team was loaded with talent and his players were the recipients of many post-season awards which included the league's MVP, best defensive player, and best lineman.
Developing talent and winning is nothing new to Sigsbury. While he was the Offensive Coordinator at Reading Memorial High School 2008-2010, and at Woburn High School from 2004-2007, both schools won State Championships. He is also the head coach of the girls' basketball team at Cathedral and this season he helped another player reach some great milestones. Sophomore Jade Moore surpassed the one- thousand points mark in her young career and was also selected as the league MVP.
Coach Sigsbury currently resides in Woburn with his wife Courtney and seven-year-old-son Dylan. Sigsbury was a former football, basketball, and baseball star at Reading Memorial High School. He was an All-League linebacker, tight end, and kicker for the 1992 Middlesex League Champions and Super Bowl participant.