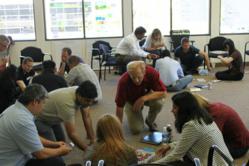 When: March 18-19, 2013 9:00 AM – 5:00 PM (PT)
Where: Work Is Good Workspace, 2082 Business Center Dr., Suite 250, Irvine, CA, 92612
Instructor: Carlton Nettleton
Irvine, CA (PRWEB) March 11, 2013
Quote the price willing to be paid and Conscires Agile Practices will be in touch.
Use the following link to do so: http://agile.conscires.com/quote-your-own-price-cspo-irvine-march2013/
Regarding the QYP CSPO course, the learning objectives for this course are:
List the five values of Scrum and the eight essential Scrum principles.
Discuss the key responsibilities and rights of the Product Owner.
Explain the importance of the Product Backlog and how it is used in Scrum.
Practice a new model for thinking about the Product Backlog, organizing the Product Backlog items and identifying non-functional requirements.
Practice each step in constructing a Product Backlog from initiating a compelling vision, identifying user needs, writing Product Backlog items and developing a product roadmap.
Explain how to create personas and how to use them to identify hidden requirements and ways to exceed the customer's expectations.
Describe how to engage the Team members, users, customers and stakeholders in co-creating requirements and features.
Identify the profile of behaviors and attitudes that enable someone to be a powerful Product Owner and the behaviors and attitudes that augment their impact.
Practice applying multiple prioritization techniques to maximize business value.
Rehearse writing user stories and acceptance criteria.
To learn more about this course, use the following link: http://agile.conscires.com/cspo-training-irvine-07/
Conscires Agile Practices also offers Agile and Scrum one day trainings (not certified,) and Certified ScrumMaster courses. Check out the full list of courses here: http://agile.conscires.com/.