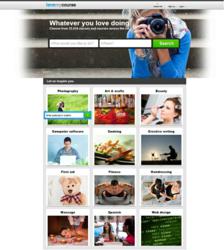 Many mums are looking to do something a bit different with their free time and have turned to learning as a way to do it.
(PRWEB UK) 8 March 2013
There has been an increase in the number of women booking courses through lovemycourse in the last month or so and feedback from course providers shows that a vast amount of these women are also mothers. Many of them are looking to do something a bit different with their free time and have turned to learning as a way to do it.
For some, it's about getting away from the family environment and indulging in some 'me time' as fitness classes like Zumba and yoga see more mums booking places. The likes of cupcake making courses and sewing workshops have also seen a surge in popularity with older mums wanting to learn alongside their children and lovemycourse has seen a number of mother and older daughters booking together using the wish list option on the site.
Then there are the mothers looking for an extra income – perhaps something they can do in the evenings after work like offering beauty treatments, or if they're caring for children all day, a way of earning an income at home, such as an online business. These women are looking at courses that will train them for the kind of work they will enjoy and can fit around their families.
The increase in popularity of mothers booking part time classes has been picked up by course providers too as many have begun adding ones aimed exclusively at mothers and their children. There are the baking classes that encourage mums to come with their kids and yoga classes new mothers can take their babies to. These are perfect for mums who want to combine learning something new with spending time with the kids.
As a result of this surge in interest, lovemycourse is predicting an increase in the number of sons and daughters giving courses as gifts this Mother's Day. Having spoken to a number of mothers local to the lovemycourse offices, it seems they are no exception and the gifts they hope to receive this year include, hair extension training, Zumba classes, Chinese classes, social media courses and even helicopter flying lessons.
Anyone hoping to get their mum something unusual this Mother's Day should definitely head to lovemycourse. With the wish list function and the huge range of subjects, finding and booking a course has never been easier. This year is the one for getting mum a gift she'll never forget.