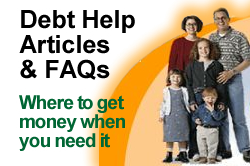 Learn ways to sail through a short term cash crisis and proceed to a long term goal of financial stability.
Pittsfield, MA (PRWEB) March 14, 2013
One of the most well read pieces amongst Bankruptcy Alternatives' debt help articles includes the examination of How To Get Money When You Need Money. Prior to jumping into ways to get money, the author, who formerly practiced as a debtor attorney, reviews first trying to eliminate or reduce debt as well as decreasing the amount of money folks may feel they need in the short term. Many times people in a panic because they need money don't truly require as much as they fear in order to avoid the perceived crisis. Discussion then proceeds through a number of ways to get money as well as common sources for funds one should avoid. The context of the article envisions a family a payment away from foreclosure. Need money, as defined by the author does not apply when someone simply wants a new pair of shoes.
When a person can't pay bills, especially if collection agencies already started calling, a key skill involves knowing who to pay when you can't pay everyone and how much to pay. Of course, everyone should always pay all of their bills, but sometimes that becomes impossible. Just like a person with a stellar attendance record at work who ends up in the hospital, in time they will recover and return to their previous habit of being on the job every day, but in the meantime the world understands and they should not beat themselves up over the temporary lapse from their usual standards. Sometimes people need to simply understand that a creditor will understand if they pay late once while for other people a short cash crunch be involve understanding that some bills need to be ignored, as much as that may be a foreign concept. As an example, one of the most common and critical mistakes people make happens when ten collectors from 10 credit card companies hound a family about late bills and they don't have enough money to pay their credit cards and the mortgage. By giving money to the credit card companies they may feel they dealt with ten creditors out of eleven, but in the long run this strategy leads to mortgage foreclosure. Of, course one of the best ways to stop a foreclosure includes keeping the mortgage current. Most people would rather keep their house than their credit cards, but don't often think of the choice in such stark terms.
Emerging from debt problems sometimes means bills will not ever be paid at face value because of a debt settlement, bankruptcy, mortgage modification, some form of credit card debt relief or other workout plan. Long term plans need examination when in a cash deficit. Don't make the mistake of paying any portion of bills at face value which in the long run will be paid at thirty cents on the dollar or discharged altogether. Another common and critical error happens when people try to get the money they need for credit card debt with cash advances from other credit cards. In fact using credit card cash advances inappropriately represent one of the leading causes of bankruptcy.
Once a foundation of what really needs to be paid becomes clear, the article examines a multitude of ways to get money. Some involve loans or assets while others deal with family or charity. Some discussion focuses on avoiding payday loans as an option when a person needs money, because of their dangers and unfriendly terms.
While long term solutions must be carved out, like a good personal home budget and money management plan, sometimes people find themselves with a very serious short term cash crisis. The materials in the How To Get Money When You Need Money article deal with specifically how to sail through that storm and proceed to a long term goal of financial stability
About:
How To Get Money When You Need Money stands as a part of the Bankruptcy Alternatives - Debtor's Options family of financial information and tools web pages started in 1996 and currently offered by the Financial Firebird Corporation with a goal of providing consumers with free unbiased help from a former debt workout and bankruptcy lawyer in choosing the right path to a brighter economic future.