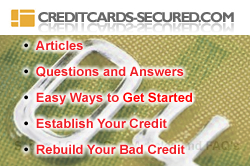 Financial Firebird's Secured Credit Cards pages may provide the most complete set of explanations and overviews available anywhere.
Pittsfield, MA (PRWEB) March 15, 2013
While almost everyone knows something about credit cards and most people understand the basic aspects of credit, a special product known as a secured credit card seems to allude many of the individuals it could help the most. A set of articles introduced by Financial Firebird Corporation endeavors to provide the most complete body of information to aid consumers in understanding secured credit cards and obtaining one if it fits with their financial needs.
Many people discover secured credit cards after bad credit earns them a denial of a standard credit card application. Banks rely on the consumer's promise to pay back the charges a person makes on an unsecured credit card based on their history of paying bills on time. Those offering only a poor credit history need to provide the bank with more assurance the credit card bills will be paid. By linking the charge card to a savings account the bank uses as security for the card both sides obtain what they need.
In today's world holding a MasterCard or Visa provides a person with tremendous convenience when shopping online, renting a car or even buying groceries. Someone without any credit might gain access to a card by using a debit card or prepaid card. While in most cases those credit cards for people with bad credit provide the ability to complete transactions, those choices fail to address a persons credit whereas a secured credit card builds up a credit report score when used properly.
Another important use for a secured credit card involves people about to to through a chapter 7 or chapter 13 bankruptcy reorganization or liquidation. Author and former bankruptcy and debt attorney Mory Brenner explains "Many debtors filing bankruptcy with credit card debt suggest that they keep one of their cards out of the bankruptcy so they retain use of a MasterCard or Visa after the filing. I would rather they discharge all credit card debt in the bankruptcy and obtain a secured credit card. This preserves their cash and allows them a great way to repair bad credit."
With many benefits over a debit card or a preloaded card, secured credit cards should be explored as a choice for people ineligible for a standard unsecured credit card. To learn more about these cards the information offered on Financial Firebird's Secured Credit Cards pages may provide the most complete set of explanations and overviews available anywhere.
About:
Secured Credit Card FAQs stand as a part of the Bankruptcy Alternatives - Debtor's Options family of financial information and tools web pages started in 1996 and currently offered by the Financial Firebird Corporation with a goal of providing consumers with free unbiased help from a former debt workout and bankruptcy lawyer in choosing the right path to a brighter economic future.