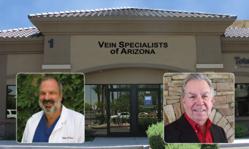 At VSA the goal is to treat venous disorders by eliminating the underlying cause, prevent progression of venous disease and provide an exceptional cosmetic result.
Phoenix, Arizona (PRWEB) March 12, 2013
Growing its Commitment to Raising the Bar in Vein Treatment through a Highly Qualified and Dedicated Professional Staff
In February, 2013, Gary L. Kersten, M.D. wholeheartedly accepted an invitation by VSA Founder/Owner Jeffrey B. Alpern, D.O., Board Certified Cardiovascular Surgeon and Vein Treatment Specialist, to become part of the medical-surgical team at VSA. Like Dr. Alpern, Gary Kersten has dedicated many years to providing cutting-edge and minimally invasive treatments that eliminate underlying existing venous disease–procedures that are safe, effective, fast, and associated with a rapid recovery and the absence of complications.
Board Certified Phlebologist, Gary L. Kersten, M.D. has been in the practice of medicine for over thirty years, dedicating his practice solely to the treatment of varicose veins and venous insufficiency since 2007. He began his medical career as a Board Certified Obstetrician/Gynecologist in Michigan, Illinois and Arizona. But it was during an opportunity to get some advanced specialized training in the diagnosis and treatment of varicose veins that Dr. Kersten discovered his true passion. Soon after, he completed the specialty Board examination for Phlebology and began treating venous patients exclusively. Dr. Kersten says "I get a feeling of satisfaction when I can improve the function and appearance of a patient suffering with vein problems."
Dr. Kersten's affiliation with Vein Specialists of Arizona (VSA) came about because of his high regard for Dr. Alpern's cutting-edge practice abilities and high ethical standards. Dr. Kersten had this to say about his association with Jeffrey Alpern and Vein Specialists of Arizona, "I am excited to be here at VSA. This is truly an optimum state-of-the-art facility where I am part of a team driven by a shared passion for vein treatment and patient care."
Setting VSA apart from most typical vein centers is the specialization in cutting-edge vein treatment along with equipment and skilled practitioners for detecting and treating the root cause of vein problems. Most vein centers provide only aesthetic treatments – a great disservice to patients who are left with a disease process that persists and actually gets worse over time. Besides having to pay for all costs out of their own pocket, new leg veins emerge as well as a progression of associated symptoms – leg pain, swelling, restless legs and difficulty standing, walking and sleeping. Both doctors at VSA have seen many patients after receiving treatment at cosmetic vein clinics. Often they express dissatisfaction and claim they were never told that their "cosmetic" vein treatment would only make their legs look better. The cause of the problem was not even mentioned. Some said they were not aware that the symptoms they were experiencing were related to a venous problem.
Both doctors at VSA know that the only acceptable vein treatment must begin with addressing the underlying cause prior to providing aesthetic procedures. As Dr. Kersten says, "At VSA, the goal is to prevent recurrence of leg veins and associated symptoms as well as progression of pathology that puts patients at risk for advanced venous stasis and hypertension, leg swelling, thickened discolored skin, ulceration, infection and life threatening blood clots."
At VSA, patients with problems ranging from spider veins and varicose veins to chronic venous insufficiency and venous stasis leg ulcers have access to revolutionary laser ablation procedures that few physicians and vein specialists even know about. Such techniques at VSA replace outdated vein stripping and the Subfascial Endoscopic Perforator Surgery or SEPS procedure – both associated with a painful, lengthy convalescence, side effects, complications and higher costs.
Treatment at VSA Begins with a FREE Vein Screening Exam
Those with symptoms of venous disease ranging from spider veins, varicose veins, venous insufficiency, leg ulcers, leg pain, leg swelling, restless legs and difficulty walking and standing can receive a comprehensive vein screening exam for FREE at VSA. This complimentary vein screening performed by Dr. Alpern or Dr. Kersten, will include a medical history, physical exam and diagnostic venous ultrasound. Patients will leave their appointment with an exact diagnosis and treatment plan. Most venous disease procedures are paid for by Medicare and private health insurance. The best way to get a free screening is to visit http://www.veinspecialistsofarizona.com and sign up for the VSA eNewsletter. They may also call (623) 428-0068. Patients are encouraged to make their appointments immediately.