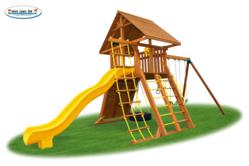 Child's play adds to dealers' profits with play sets like Eastern Jungle Gym's Extreme
Carmel, NY (PRWEB) March 08, 2013
With sales volume up by more than 20%, Eastern Jungle Gym is proof that many specialty dealers decided to stop the slide of the poor economy by adding new product lines.
"The smart specialty dealers have realized that the more they diversify the easier it is for them to make it through the season," said Rolf Zimmermann, vice president of sales and marketing, Eastern Jungle Gym, Carmel, N.Y.
Launched more than 20 years ago by brothers Scott and Mark Honigsberg, Eastern Jungle Gym began by manufacturing play sets for direct sale in its retail locations, which now include three in New York and three in Connecticut.
After launching its wholesale division 10 years ago, the company now is concentrating its expansion efforts on this side of the business. Eastern Jungle Gym first focused on markets in the Northeast then gradually expanded south and westward.
Child's play adds to dealers' profits with play sets like Eastern Jungle Gym's Fantasy Tree House.
"We wanted to maintain a level of service and quality to our dealer existing dealer network on the East Coast and Mid Atlantic regions first and make sure that everything was in place before expanding," said Zimmermann, who started with the company 18 years ago when he managed its first retail location. "So our progressive growth has been very strategic."
Eastern Jungle Gym offers eleven swing set models, all for residential use. The swing sets are made of cedar, rather than pressure-treated lumber, so are 100% chemical free.
"Our high level of quality really separates us from the product found in the mass merchants," Zimmermann said. "We are definitely geared to the specialty retailer."
Those dealers represent a range of industries, from casual furniture to hearth and even fencing retailers. Some, like Eastern Jungle Gym's retail stores, are primarily swing set dealers, while most carry the play sets as a secondary or third product line.
For those who are selling the outdoor room, adding the outdoor play room is a natural extension. The challenge for many, however, is limited space.
Eastern Jungle Gym's experience shows that dealers with a minimum of five swing sets on display reap the sales they need to justify the space. As Zimmermann points out, having a single set on display can confuse consumers because they may not realize that the set is for sale. It also makes it difficult for sales staff to sell off of one unit.
"Dealers who have enough models on display to represent the line and to give the impression that they are the place to come to when shopping for a swing set are the ones who do well," Zimmermann said.
He admits that many who haven't tried selling play sets are skeptical about the category's profitability. But Zimmermann believes that attitude is changing thanks in part to what is happening in the big box stores.
"As retailers see that even mass merchants are starting to offer a higher quality swing set, they are starting to think that there must be a market for it and that they should be in it," he said.
Eastern Jungle Gym's wholesale sales have grown every year for the last three years, with dealers seeing consistent growth in the category even through the recession, Zimmermann said.
In addition to people spending more time at home, Zimmermann believes that parents' natural tendency to spend money on their children gives the category an advantage no matter what the economy is doing.
To help its dealers maintain profitability, Eastern Jungle Gym dropped its early buy program and offered them minimal inventory and quick delivery. The company plans a similar approach for 2013 along with offering free freight incentives.
The manufacturer also supports its dealers with a strong Internet program that includes a Web site that directs traffic to dealers and extensive online advertising.
"The Internet is clearly becoming a bigger and bigger part of retailing in a number of ways," Zimmermann said. "We direct a huge amount of our advertising budget to it because it one of the quickest, easy ways to find whatever you need and most people are very comfortable with it. We think it is a fantastic tool that is just getting bigger and bigger."
Another reason for double digit growth is the company doesn't sell its product online or to the mass merchants. Zimmermann adds "our focus is on supporting our dealer network and helping them become successful with this category. We will not compete with them directly, it's just bad business"
Eastern Jungle Gym's evolution is a familiar family business story. It started small, when the Honigsberg brothers decided they could build a swing set competitive with anything on the market. They focused on quality and the market responded.
Zimmermann fully anticipates that success to continue.
"It got to a point where the company had to make the decision which direction it would go," Zimmermann said. "It wasn't hard to see the growth and the potential that was out there. It was just a matter of whether they wanted to take risk to go after it.
"Some companies are very comfortable with a very small market share and that's where they stay; other companies see the potential and expand to it, which is what Mark and Scott did," he added. "I think it's just the beginning. I think we have an unlimited growth opportunity ahead.
For more information call 800-752-9787 or visit http://www.easternjunglegym.com