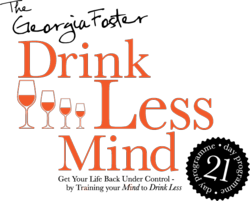 The Drink Less Mind programme is for people from all walks of life
(PRWEB UK) 12 March 2013
94.7% of people who participated in the Drink Less Mind programme witnessed a significant improvement within their lives, according to the End of Programme Survey that participants are asked to complete.
The 21 day programme aims to reduce an individual's alcohol consumption by re-training the perceptions they hold towards it.
Leading alcohol hypnotherapist and creator of the programme, Georgia Foster said:
"The Drink Less Mind programme is for people from all walks of life. When I wanted to learn how to stop drinking alcohol, everyone told me to do this I must focus on giving up alcohol completely. This is not the case. I genuinely enjoy a drink and was sure that there was another way. As a result, I created a healthy, rewarding alternative and the survey proves that the programme works."
The survey also revealed that 92% of people felt healthier, 83.8% of people improved their personal life, 81.2% witnessed an improvement in self-esteem and 67.5% improved their sleeping patterns.
The 'Just a Drop' study by UCL in 2013 showed that alcohol consumption in England may be much higher than initially expected.
Chief executive of alcohol education charity Drinkaware explained:
"It's not unusual for people to under-report how much alcohol they drink, whether that's intentional or not. People don't tend to understand differences in sizes and strengths of popular drinks, or might be unwilling to admit to themselves and others exactly how much they drink."
The government advises that people should not regularly drink more than the guidelines of 3-4 units of alcohol for men a day (equivalent to a pint and a half of 4% beer) and 2-3 units of alcohol for women a day (equivalent to a 175 ml glass of 13% wine). 'Regularly' means drinking every day or most days of the week.
About Drink Less Mind
The Drink Less Mind programme is a proven, successful online, fully downloadable course that offers a completely private alternative to expensive therapy and group meetings. Visit: http://www.howtodrinkless.com