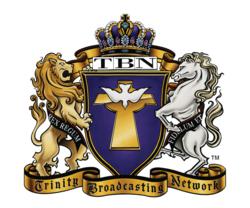 (PRWEB) March 07, 2013
Trinity Broadcasting Network is gearing up to celebrate its 40th anniversary, and TBN Vice President Matthew Crouch said the coming months will give the Christian television mainstay abundant opportunity to reflect on the blessings and fruit God has given the network over the past several decades, as well as to consider the many opportunities for the future.
"On May 28, 1973, Paul and Jan Crouch launched TBN with one small, low-power TV station in Southern California," Mr. Crouch recalled. "They weren't the most talented or qualified for the job, and they only had enough money for about three days of broadcast. But what they did have plenty of was faith to believe that God would equip and empower them for the work He had called them to accomplish."
Forty years later TBN stands as the world's largest Christian television outreach, with 20-plus international networks reaching every major continent via 78 satellites and more than 18,000 television and cable affiliates worldwide. And with its innovative iTBN online portal, TBN is reaching more people in more ways than ever before with the Gospel message and inspirational programming.
In the past several years not only has TBN expanded its distinctive flagship network into five domestic faith-and-family channels, but it has grown to include no less than fifteen 24-hour Christian networks in strategic areas around the world. They include TBN Europe, six global networks operated by TBN Russia, the Middle Eastern Healing Channel and Nejat networks, TBN's Spanish language Enlace affiliate, and several TBN networks broadcasting throughout Africa and Asia.
Mr. Crouch noted that in the coming months TBN will open two state-of-the-art studio facilities in London and Jerusalem to serve the production needs of many of TBN's international networks. "What began as one small station forty years ago launched through the faithfulness of my mom and dad Paul and Jan Crouch," he said, "has grown through God's blessing into what we now call the Trinity Broadcasting Family of Networks."
He added that what would not change is the single-minded mission that has guided the network from the beginning. "Just as it has been from day one, our continuing mandate at TBN will be Christ's Great commission — to reach every corner of the world with life-transforming message of the Gospel."