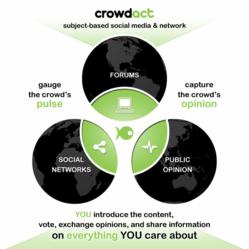 I created crowdact because I wanted people to have a place - a public square - where they can have conversations, share information, express their opinions and delve into topics or conversations more deeply. - John Ardic, crowdact's founder
(PRWEB) March 08, 2013
Political buffs, beer lovers and pop culture enthusiasts have a new place to discuss ideas and topics that matter to them. Introducing crowdact, a whole new way to express yourself, connect with others and engage with the world online. And it's as simple as finding the subjects or issues you're passionate about the most.
The way we currently connect and share on social networks puts individuals at the centre and builds networks around them. Crowdact does the opposite by providing a place for people to gather around an issue or subject they care about. From the moment a user logs in they can search for their topic of interest, and if they don't find it, add it themselves. Users share their opinions with help from a word cloud tool, vote to approve or disapprove of topics, share ideas and external links and ultimately engage in meaningful conversation and debate with others.
"I created crowdact because I wanted people to have a place - a public square - where they can have conversations, share information, express their opinions and delve into topics or conversations more deeply," says John Ardic, crowdact's founder. Current social networks provide a platform for discussion that is oftentimes too diffused, with sentiment getting lost in a sea of tweets or posts. Crowdact aims to solve this dilemma with a subject-based social media network that puts the topic of interest into the centre of conversations.
Crowdact will officially announce its beta launch at the SXSW Interactive Spotlight on March 8, 2013 in Austin, Texas. Anyone can sign up for this exciting new network today at http://www.crowdact.com.