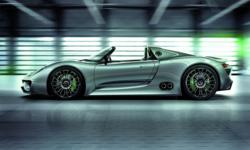 Is a hybrid supercar an oxymoron? AutoFoundry.com posits that hybrid supercars are heralding a shift in the public's perception of the hybrid car.
Wilmington, NC (PRWEB) March 08, 2013
AutoFoundry.com, a leading automotive blog and online community, has released a feature article that is making waves in forums and on blogs across the web. The feature, entitled "Hybrid Supercars - Who Says You Can't Have it All?" is authored by contributor B. Jerew, an ASE Master Technician and growing voice in the "green" automotive space.
Jerew begins by challenging readers with the question: "Is a hybrid supercar something of an oxymoron?" Although the majority of American consumers may perceive hybrids as "bug-like" cars with the "personality of a melon," Jerew posits that the integration of hybrid technology into the supercars of tomorrow will herald a shift in the public's perception of the hybrid car. The instant torque availability - a prime characteristic of the electric engine - is one of the most appealing aspects of the electric motor for today's supercar engineers. The article goes on to detail the integration of hybrid technology in six exciting new supercars:
-Porsche 918
-BMW i8
-Next-Gen Nissan GT-R
-Ferrari "F150"
-Vermot AG Veritas
-Jaguar C-X75
-Tesla S
Says T. Brown, managing editor of AutoFoundry.com: "Supercars represent the ultimate display of a brand's identity and engineering prowess. With the importance of hybrid and electric technology to the average consumer, it's no wonder that automakers are looking for ways to display their next-gen green technology in their most iconic automobiles."
Without a doubt, the hybrid supercar is an exciting prospect for motorsports aficionados who have feared that high gas prices and stringent fuel economy standards would kill the supercar. Rather, it seems that such developments are spurring a whole new era of eco-conscious vehicle performance, and with so much buzz and development in this area, automotive historians may well look back on 2013 as the year of the hybrid supercar.
About AutoFoundry.com: Founded in 2012, AutoFoundry.com has quickly become one of the leading destination sites for self-proclaimed gearheads and automotive aficionados. The site intersperses interesting news from the automotive industry with thought-provoking, incisive feature articles from highly-credentialed contributors.